Lemony Brussels Sprouts Pasta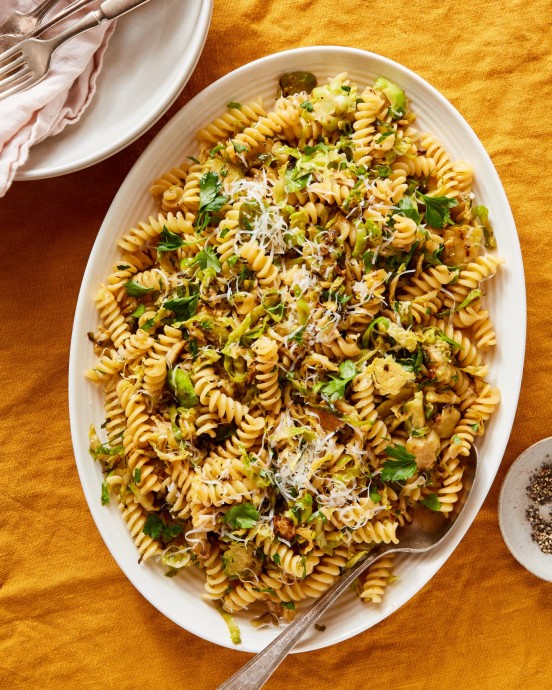 Prepare to fall in love with Brussels sprouts all over again. In this easy weeknight pasta recipe, everyone's favorite cruciferous veg takes on a silky texture and caramelized flavor, and gets tangled up in the ridges of al dente fusilli. It's bright from lemon juice and zest, has a touch of heat from red pepper flakes, and gains depth and umami flavor from a splash of soy sauce. What's not to love?
While you can absolutely buy pre-shredded sprouts to save time, prepping the whole sprouts happens quickly. Trim off the root stem, remove any exterior leaves that are browned or damaged (they'll likely fall off anyway), then halve and thinly slice. Once prepped, the sprouts cook in a skillet with garlic and red pepper flakes until the strands are browned at the edges and have shrunken down in size (don't worry if it looks like the pan is overcrowded when you add them all in).
As is, this pasta makes a quick and delicious weeknight dinner. But if you want to play around with it, here are three tasty ways to do so. Add sausage: Non-vegetarians can cook the sausage of their choice until just browned, then add the sprouts and continue with the recipe. Orecchiette would be a good pasta choice here, as the cups will capture the tiny bits of sausage. Stir in more greens: Stir in baby spinach or baby kale at the end of cooking until just wilted. Top with nuts: Crush some nuts and sprinkle them on top for a textural contrast (almonds or walnuts would be great).
Ingredients:
Kosher salt
2 cloves garlic
1 1/2 pounds Brussels sprouts
3/4 cup grated Parmesan cheese, plus more for serving
1 medium lemon
1 pound dried fusilli or other small tubular pasta
3 tablespoons olive oil
1/2 to 1 teaspoon red pepper flakes
1/4 cup fresh parsley leaves (optional)
2 tablespoons low-sodium soy sauce
Freshly ground black pepper