Potatoes au Gratin (Dauphinoise)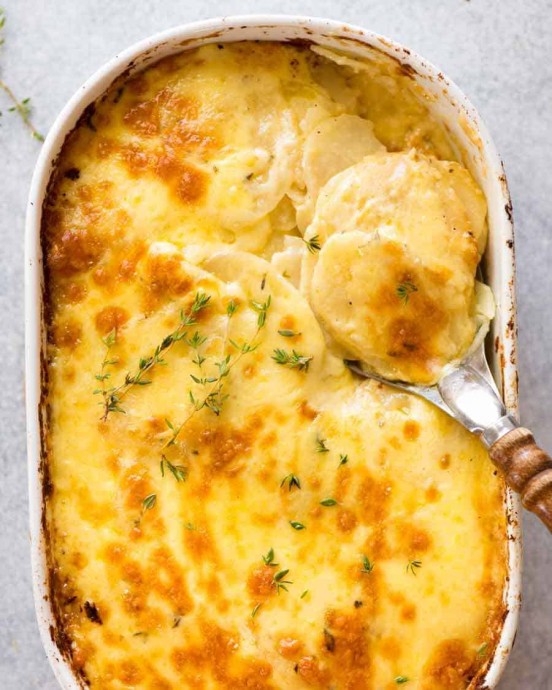 Potatoes au Gratin – forget scalloped potatoes, THIS is the creme de la creme of all potato recipes!! Also known as Dauphinoise Potatoes, this French classic is made with layers upon layers of finely sliced potatoes, cream, butter and cheese with a hint of fresh thyme. Potatoes au Gratin? Or Scalloped Potatoes? If you're wondering what the difference is between Scalloped Potatoes and Au Gratin Potatoes, scalloped potatoes are made with a flour-butter-milk roux, whereas Potatoes au Gratin are made with 100% indulgence: cream, butter and cheese.
Thinly sliced potato is layered with a cream-butter-garlic mixture, sprinkled with thyme and the mandatory cheese in every layer. Bake covered for 75 minutes (yes really, it takes that long), then uncovered just to make the cheese on top lovely and golden. While it might seem daunting to thinly slice 1 kg / 2 lb of potatoes, this is the sort of task where you'll quickly get into a rhythm. By the 3rd potato, you'll be slicing like a pro! This recipe is luxurious and thoroughly indulgent. Bonus: It's the ultimate make ahead potato side dish!
Ingredients:
1 1/2 cups cream , full fat
2 garlic cloves , minced
30g / 2 tbsp unsalted butter , melted
1.25 kg / 2.5 lb starchy potatoes , Russet, Sebago, Maris Piper
1 tsp salt
1/4 tsp pepper
2 1/2 cups gruyere cheese (or mozzarella) , freshly grated yourself (Note 3)
2 tsp thyme leaves , fresh (optional – but highly recommended)