Healthy Crab Cakes (Keto)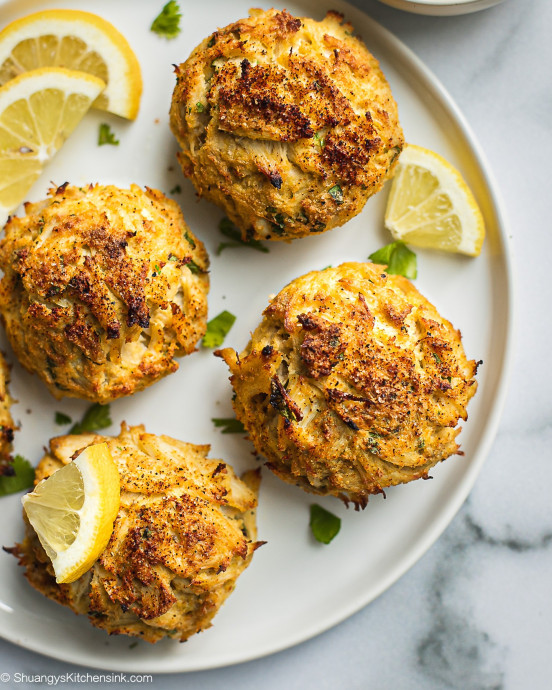 The signature ingredient in a Maryland crab cake is the iconic Maryland Blue Crabmeat. 'Restaurant style' crab cakes tend to have large chunks of crab meat, making it the star of the show. 'Boardwalk style' crab cakes generally have smaller pieces of crab meat with breadcrumbs and Old Bay seasoning. Traditionally, they are breaded and deep-fried to give them that golden crunchy crust with a delicate center. When it comes to making healthy recipes, I like to keep it simple with minimal ingredients. This recipe only calls for 8 ingredients. Since these keto crab cakes have no filler, they are made up of mostly crab meat (hello protein!), packed with protein and low in carb.
Jumbo lump crab meat is going to be the best option for these crab cakes, and whatever kind of crab meat that you can get fresh is best. Remember: the fresher the better! Since the crab meat is the main ingredient in this recipe. I would suggest avoiding canned crab meat and stick to what is available at your seafood counter. If jumbo lump crab meat is a little out of your budget, you could also use lump crab meat or backfin as long as it's fresh!
These carb cakes are so versatile, they can be served with a variety of side dishes. One of my favorite ways to serve these crab cakes is with a nice piece of corn on the cob, but these crab cakes also go great on top of a bed of greens and made into a salad.
Ingredients:
1 lb jumbo lump crab meat, drained
1/4 cup mayo (Whole 30 approved)
1 egg
2 tsp Dijon mustard (Whole 30 approved)
2 - 3 tsp New Bae Seasoning (or old bay)
2 tbsp fresh parsley (chopped)
1 lemon (divided)
1 1/2 Tbsp coconut flour *
Additional Salt to taste