Baked Turkey Rangoon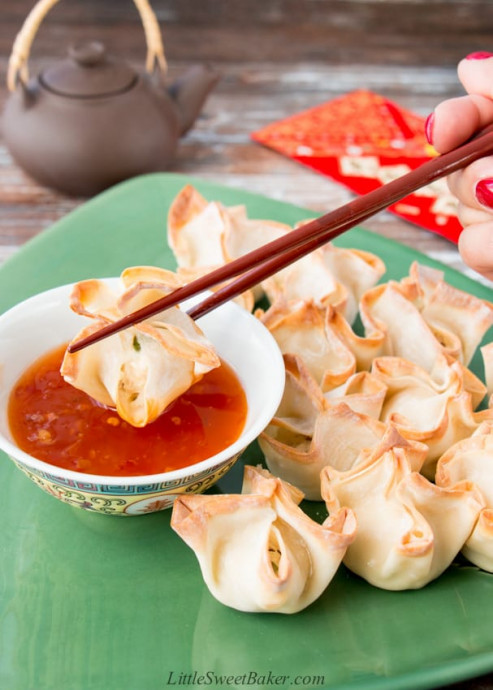 Celebrate Chinese New Year with baked turkey rangoon! This twist on a restaurant favorite is even better made with lean and nutrient-rich Canadian turkey. It's also baked instead of fried for a quick and easy healthier appetizer. You can easily substitute the meat in your favourite Chinese New Year dishes with turkey as a tasty and lean, high-protein alternative. Turkey is a nutritional powerhouse. It contains 30 grams of protein in every 100-gram serving. The dark meat is lean, and the white meat is extra lean! Turkey breast is an excellent heart-healthy choice with only 3 grams of fat in every 100-gram serving. You can serve it for breakfast, lunch or dinner and it's an economical way to feed a crowd. So think turkey for your upcoming Chinese New Year menu! It's best to serve them warm and fresh from the oven. Serve with some plum sauce, sweet chili sauce or sweet and sour sauce.
You can assemble and place them in a mini muffin pan, then cover and store in the fridge for up to 8 hours until you are ready to bake them.
Assemble and place them in a mini muffin pan. Place in the freezer for 1-2 hours until frozen solid. Transfer them into a freezer-friendly container or ziplock bag and store them in the freezer for up to 3 months. Thaw overnight in the fridge and bake as instructed.
Ingredients:
2 cups (250g) cooked turkey, chopped small
1–250g package of cream cheese, softened
1/4 cup green onions, thinly chopped
1 tbsp Worcestershire sauce
1 tsp soya sauce
1/2 tsp garlic powder
24 wonton wrappers
plum sauce, sweet chili sauce or sweet and sour sauce for dipping