Cranberry Hand Pies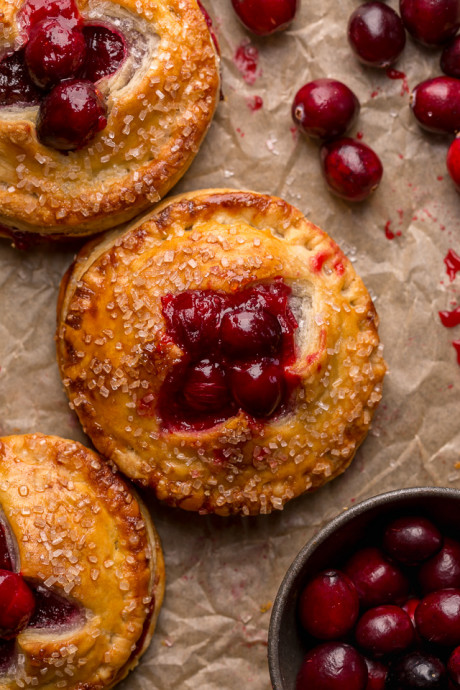 Today's cranberry dessert? Rustic cranberry hand pies! These are so much easier than baking a whole pie! And a major bonus is that you don't have to wait hours and hours for them to cool. Just a few minutes and they're ready to eat! I highly recommend serving them warm, with giant scoops of vanilla ice cream! They're not too sweet, so a scoop or two won't be cloying.Rustic Cranberry Hand Pies feature a flaky crust and a delicious orange cranberry filling! And their petite handheld size makes them perfect for sharing this season!
Whenever I see a vibrant bag of cranberries at the grocery store, I can't help but feel a little bad for them. Because let's be real… they're the true underdog of the holiday season. Especially in the baking world where everyone goes bonkers over pumpkin and apples and sweet potato.
But I'd like to think I help and balance out the scales a bit. Because I LOVE cranberries! And bake with them every chance I get. They have a bright and tart flavor that's so refreshing. And a welcome change from all of the rich and heavy desserts typically found on a holiday table. Plus, their gorgeous ruby red hue instantly makes any table look more festive! Serve warm, preferably with coffee and ice cream! Last week I put a 1/2 cup of almond ice cream on top of a warm cranberry pie and OMG. It was heaven on earth! Next I'm going to try pairing it with butter pecan… sounds so good right?
Ingredients:
For the Crust:
2 cups all-purpose flour
1/2 teaspoon salt
3/4 teaspoon baking powder
1/4 teaspoon ground cinnamon
2 tablespoons granulated sugar
2 sticks (8 ounces) VERY cold, unsalted butter, cut into cubes
1/2 cup cold FULL FAT sour cream
For the Cranberry Filling:
3 cups cranberries, fresh or frozen
1/2 cup light brown sugar, packed
1/3 cup granulated sugar
1 teaspoon orange zest, finely grated
2 tablespoons fresh orange juice
2 tablespoons flour
2 Tablespoons grand mariner
1 teaspoon vanilla extract
For the Egg Wash:
1 large egg, beaten
2 Tablespoons sparkling sugar, optional