Creamy Lemon Chicken & Rice Pot Pies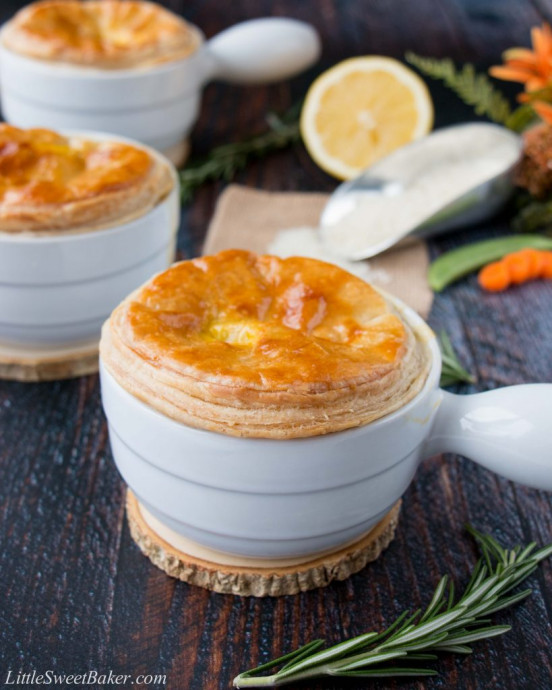 These mini chicken pot pies are filled with delicious rice, colorful veggies and succulent chunks of chicken baked in a creamy lemon sauce. Topped with a double layer of buttery-flaky puff pastry, these mini pot pies are hearty and a perfect comfort food. January can be a bit of a lull month for some people. For me, during times like this, it's all about comfort food – food that warms the heart and soul. Rice is the ultimate comfort food for me. Maybe it's because I grew up having rice at almost every meal. It's how my mother cooked and it's how I remember eating as a family when I was a kid.
Rice is versatile and so easy to prepare. You can pair it with any meats or vegetables and you have a meal. Canada does not produce rice, so rice that comes from the United States is as local as it gets. Rice grown in the U.S. is also consistent and good-quality. Rice is nutritious, low in calories, affordable and filling, so it's great for feeding hungry families. I will often cook a large batch of rice on Sundays and use it throughout the week. Cook it once, and eating it multiple times makes it easy to meal plan and is a time-saver.
Ingredients:
2 cups cooked rice
1 cup cooked chicken
1 cup mixed vegetables (I used carrots, corn and green peas)
1 tsp butter
1 can condensed cream of chicken soup
1/2 cup of milk
zest of one lemon
juice of half a lemon
2 sheets of puff pastry
1 egg
salt and pepper to taste