Cute Little Apple Hand Pies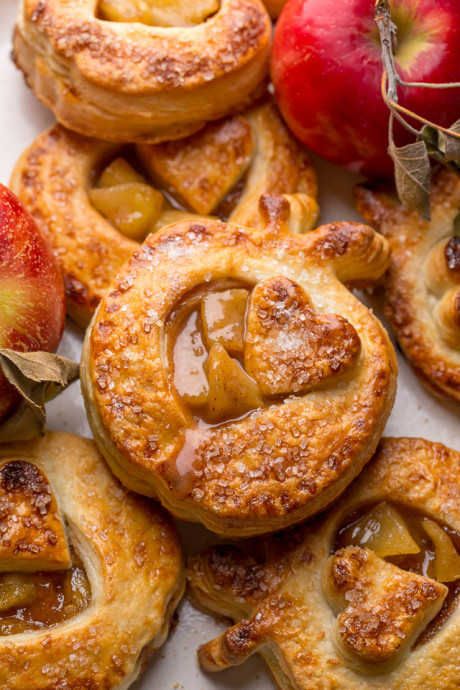 The only thing better than apple pie is cute little apple hand pies!!! Featuring apple shaped homemade pie crust and gooey apple pie filling, these individual apple pies bake up in about 15 minutes! The perfect apple hand pies to for share with loved ones this holiday season.
o make the pies themselves extra adorable, I used an apple shaped cookie cutter to cut out the pie crust, and a mini heart shaped cookie cutter to make the vent on top of the pies. But if you don't have said cookie cutters on hand, you can simply cut the dough into squares! They won't be as cute, but they'll still be a super delicious apple hand pie recipe! If you cut them into squares, they'll look a lot like the cinnamon apple bourbon hand pies. You can use almost any apple to make apple pie, but my favorites are Granny Smith and Honeycrisp apples! Jonagold, Golden delicious, and Northern Spy are also great choices! No matter what the variety, you'll need to peel, core, and dice the apples. You should dice the apples pretty fine.
These are delicious warm or at the room temperature! But my favorite way to serve is fresh from the oven with a giant scoop of ice cream! The perfect Fall treat and so much easier than making a whole pie!
Ingredients:
For the Crust:
2 cups all-purpose flour
1/2 teaspoon salt
3/4 teaspoon baking powder
1 and 1/2 tablespoons granulated sugar
1 cup (8 ounces) unsalted butter, VERY cold, cut into cubes
1/2 cup FULL FAT sour cream, cold
For the Apple Pie Filling:
4 large apples, peeled and cored
3 tablespoons unsalted butter
1/4 teaspoon salt
1/4 cup white sugar
1/4 cup brown sugar
2 teaspoons apple pie spice
2 Tablespoons fresh lemon juice
2 Tablespoons all-purpose flour
For the Egg Wash:
1 large egg, beaten
sparkling sugar, optional