Cream of Mushroom Soup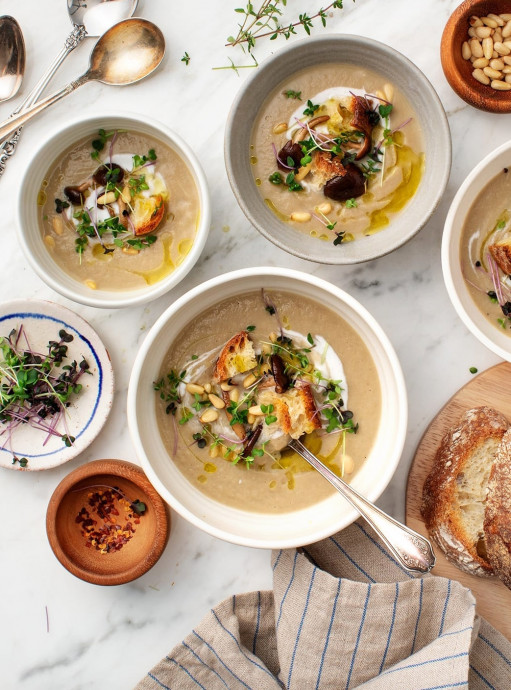 This cream of mushroom soup tastes decadent, but it's secretly healthy. Its creamy texture comes from pureed cauliflower! This homemade cream of mushroom soup is one of our favorite dishes to share on cold nights. It's far too good to hide inside any casserole, so make a batch to enjoy on its own! If you have any extras, freeze them for later, but fair warning: this soup disappears pretty quickly. This cream of mushroom soup recipe is rich, creamy, and deeply savory, but it doesn't call for you to stir in cream or melt butter. In fact, this soup is completely vegan – you won't find any butter, heavy cream, or chicken broth here. Instead, it gets its luscious creamy texture from blended cauliflower!
And as far as flavor goes, you won't miss the cream or butter at all. Aromatics like leeks, celery, garlic, and fresh thyme create the savory base of the soup. A full pound of fresh mushrooms loads it with umami flavor, and tamari, Dijon mustard, balsamic vinegar, and a generous splash of white wine make it deliciously tangy. Sauté the aromatic veggies and mushrooms, add the cauliflower and vegetable stock, and simmer until everything's tender. Then, blend the soup with the Dijon and balsamic, and enjoy this yummy, all-veggie cream of mushroom soup.
Ingredients:
2 tablespoons extra-virgin olive oil, plus more for drizzling
2 medium leeks, white and light green parts, sliced (2 cups)
2 celery stalks, diced
16 ounces cremini mushrooms, chopped
2 tablespoons tamari
¼ cup dry white wine
2 large garlic cloves, chopped
2 tablespoons fresh thyme leaves
4 cups vegetable broth
1 pound cauliflower, broken into florets (5 cups)
1 teaspoon Dijon mustard
1 tablespoon balsamic vinegar
Sea salt and freshly ground black pepper
Topping/serving options:
Drizzle of coconut milk
Crusty bread, toasted as croutons or served on the side
Additional mushrooms, sautéed
Toasted pine nuts
Microgreens or tender thyme leaves