Homemade Apple Butter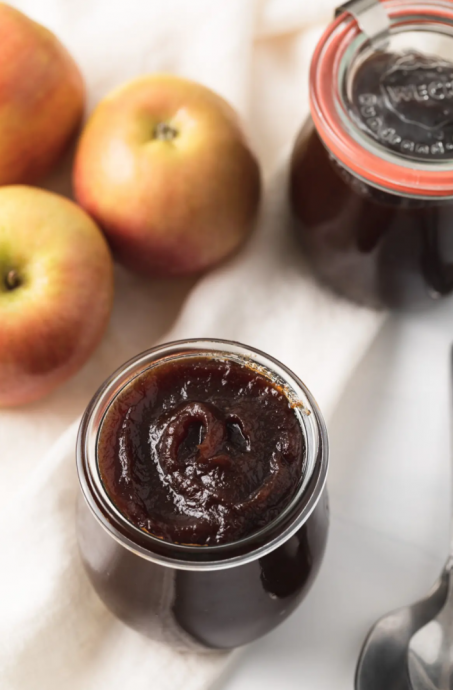 Homemade apple butter recipe spiced with cinnamon, nutmeg, and cloves is full of delicious fall flavor. It's super easy to make in the slow cooker or crockpot. The great thing is you can use essentially any apple variety you desire. Or combine a couple of different varieties to add depth to the flavor. While it's popular during the Fall months, it's near impossible to find in a store. This is why people end up making it at home.
Good thing it's super easy to make! And the result is a delicious apple spread that tastes so much better than anything you'd buy at the store. It can be used as a spread for English muffins, scones, and even biscuits. It's also great as an ingredient in baked goods or as a condiment. But what is apple butter? It's like apple sauce but much more concentrated. The difference is the apples are pureed and cooked for a longer period of time. This long cook time reduces the moisture and caramelizes the puree leaving behind a flavorful, smooth spread.
Ingredients:
6 pounds apples, peeled, cored, and finely chopped
1 tablespoon pure vanilla extract
1 cup (200 g) granulated sugar
1 cup (210 g) light brown sugar
1 tablespoon ground cinnamon
½ teaspoon freshly grated nutmeg
¼ teaspoon ground cloves
¼ teaspoon salt