Smothered Cheesy Sour Cream Chicken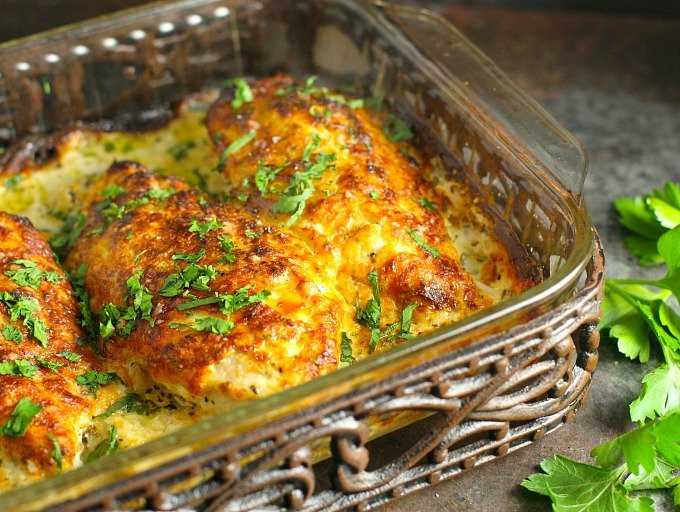 This recipe is about as easy as they come. Get started by preheating your oven to 375 degrees. Coat a rectangular baking dish with a little olive oil so the chicken doesn't stick. Then mix your sour cream with a half cup of Parmesan, salt and pepper, oregano and basil, garlic powder and corn starch (to thicken it up a little bit) together.
Lay your chicken breasts in the baking dish, top each with a slice of mozzarella and smother the chicken with the sour cream mixture. Then top with a little more Parmesan, and pop it in the oven for about an hour. Sprinkle chopped parsley over the top as garnish. The sour cream mixture keeps the chicken really moist, and the finished sauce is quite delicious. I like to serve it over rice. You really can't get too much simpler than this for dinner prep. It literally takes minutes to get this Cheesy Sour Cream Chicken ready for the oven! Doesn't it look delicious?! Perfect family dinner is served!
Ingredients:
4 chicken breasts
4 slices mozzarella
1 cup Hood sour cream
3/4 cup Parmesan, freshly grated, divided
1 tablespoon corn starch
1 teaspoon dried oregano
1 teaspoon dried basil
1 teaspoon garlic powder
1/2 teaspoon salt, freshly ground
1/2 teaspoon pepper, freshly ground
Parsley, chopped, for garnish