Mango and White Chocolate Scones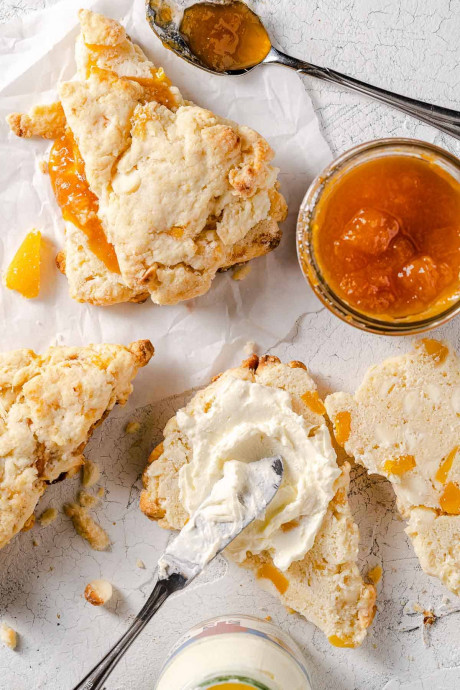 Mango and white chocolate scones are sweet, rich, and slightly tangy from dried mango, which also provides a nice chewy texture to the scones. Best of all, these scones are easy to make in about 30 minutes! Instructions for substituting fresh mango also included.
If you are craving a sweet, delicate treat to serve with coffee or tea, these mango and white chocolate scones are it! Dried mango adds a bit of a chewy texture that I absolutely love.
But, if you have fresh mango on hand, this recipe has also been updated to include instructions for substituting fresh mango. And of course, I think mango and white chocolate is a match made in heaven, just see my recipe for Mango Trifle with white chocolate whipped cream!
These scones are also simple to make, because the dough uses only heavy cream, rather than butter or a combination of butter and heavy cream. So instead of having to work butter into the dough at just the right consistency, all you need to do is add the heavy cream to the dry ingredients and combine together! Just like that, you have a scone that's tender, moist (but not too moist!), and ready in about 30 minutes.
Ingredients:
2 cups all-purpose flour
1 cup heavy cream
2 teaspoons baking powder
¼ cup granulated sugar
½ teaspoon salt
1 cup white chocolate chips
5 ounces dried sweetened mango