Blue Cheese Crusted Filet Mignon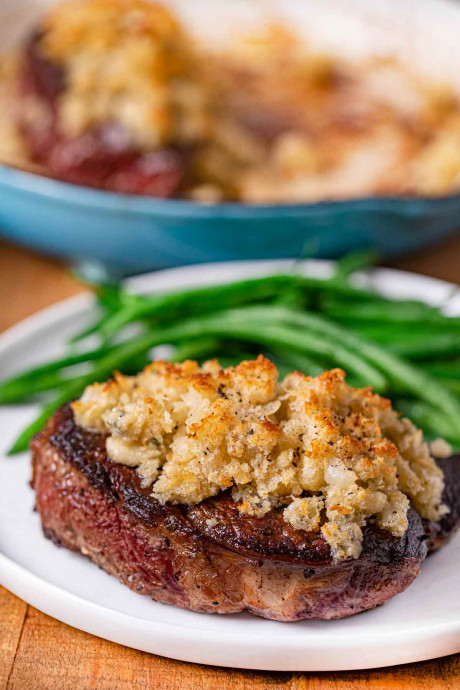 Blue Cheese Crusted Filet Mignon is an easy upgrade to classic Filet Mignon with blue cheese, breadcrumbs, and butter. It's the perfect dish to impress! Filet Mignon is a wonderful, fork-tender steak dish and this blue cheese topping makes it even more delicious. It's a wonderful Beef Recipe, that's surprisingly easy to make even though it turns out quite elegant. Filet Mignon comes from a wonderfully tender and delicate cut of meat. It's a boneless, lean steak with a delicious and buttery texture. The French translation of Filet Mignon actually means "tender filet." The cut of beef comes from the small end of the tenderloin, and it's surprisingly easy to cook to perfection.
A crusty blue cheese topping is something they add to the top of Filet Mignon at many restaurants. However, this classic dish is surprisingly easy to recreate at home. All it takes is some butter, onion, blue cheese, breadcrumbs, and some salt and pepper mixed together. The beef flavor goes perfectly with the creamy blue cheese topping. Create this delicious dish as the centerpiece of your next dinner party, for a romantic dinner for two, or it's even easy enough to make for a family dinner.
Ingredients:
Blue Cheese Topping
2 tablespoons butter
1 yellow onion , chopped
1/3 cup crumbled blue cheese
1/4 cup panko breadcrumbs
1/4 teaspoon kosher salt
1/4 teaspoon coarse ground black pepper
Filet Mignon
2 tablespoons unsalted butter
4 beef tenderloin , filet mignon steaks, (~8 ounces each)
1 teaspoon Kosher salt
1/2 teaspoon coarse ground black pepper