Panna Cotta with Strawberry Sauce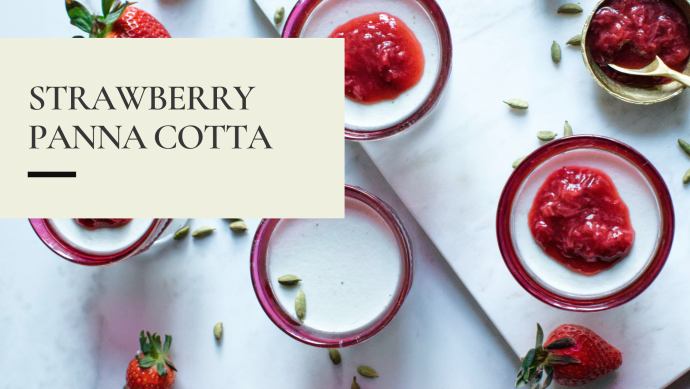 Traditional Italian Panna Cotta is made with gelatin, but using cornstarch keeps it vegan, yet gives it the same gelatinous texture. You may replace Strawberry Sauce with Chocolate Sauce or any other toppings you would like. This Panna Cotta will need to chill in the refrigerator for 8 hours or overnight before unmolding.
Ingredients
1⁄4 cup soy, almond, or rice milk
1⁄4 cup cornstarch
1 (13.5-ounce) can coconut milk
1⁄2 cup sugar
Strawberry Sauce
1⁄8 teaspoon salt
Seeds scraped from 1 vanilla bean or 1 teaspoon pure vanilla extract
Directions
In a small bowl, thoroughly mix nondairy milk and cornstarch with a whisk or fork and set aside.
In a medium saucepan, whisk coconut milk, sugar, and salt, and heat over medium-high just until boiling. Reduce heat to medium and slowly drizzle the cornstarch mixture into the saucepan, whisking continuously. Let cook until the mixture becomes very thick in texture, like pudding, about 5 minutes, whisking frequently. Remove from heat and whisk in vanilla.
Pour the custard evenly into 4 ramekins. Smooth the tops. Let cool for 10 minutes; then chill in the refrigerator for 8 hours or overnight.
Remove the custards from the refrigerator 1 hour before torching, so that they come to room temperature. Sprinkle about 2 teaspoons sugar onto each custard, then give it a little shake so that the sugar spreads evenly.
Gently shake each ramekin to loosen edges. Place a plate on top of each ramekin and flip with force to unmold. Garnish with Raspberry Sauce (see tip), if desired.
Strawberry Sauce
Add some color to your Panna Cotta with this bright and beautiful strawberry sauce. It can be made up to 5 days in advance and stored in the refrigerator.
2 cups fresh strawberries
2 tablespoons water
1⁄4 cup sugar
1⁄8 teaspoon salt
1 teaspoon lemon juice
In a medium saucepan, cook strawberries, water, sugar, and salt over medium heat for about 15 minutes, or until thick and saucy. Remove from heat and stir in lemon juice. Add the sauce to a blender, and blend until smooth. For a smoother sauce, press through a fine mesh strainer. Let cool, then store in refrigerator.
Tip
If you want to drizzle your raspberry sauce in a way that is elegant and simple, try using a squeeze bottle to make a zigzag or row of dots. For a fancier decoration, squeeze about a teaspoon of sauce onto the plate and, using the back of a spoon, drag the sauce along a 2 to 4 inch curve and release.
Bon Appétit!