Lasagna Roll-Ups (Made With Zucchini!)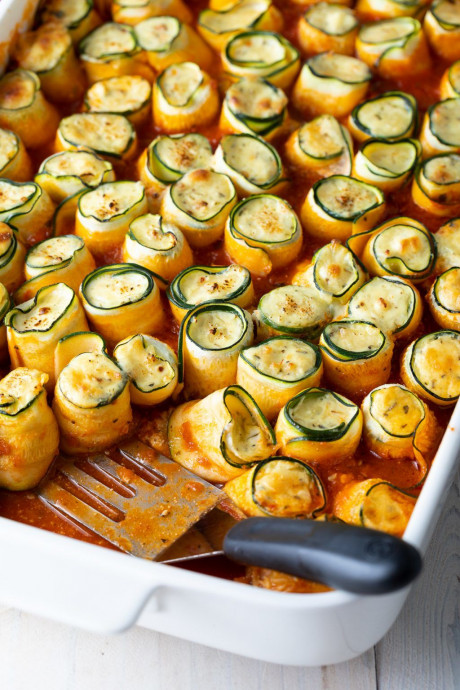 Keto Lasagna Roll-Ups – Cheesy low carb lasagna roll-ups are made with fresh zucchini "noodles" for a delicious meal that's healthy and still incredibly satisfying. This cozy Keto Lasagna Roll-Ups recipe uses thinly sliced zucchini instead of traditional lasagna noodles to seriously reduce carbs. It's fun to make and so satisfying.
The best lasagnas always include layers of tender pasta, perfectly melted cheeses, and tangy tomato sauce. These simple elements combine to create savory, cheesy, utterly satisfying comfort food. By swapping the usual wheat-based pasta with zucchini, you're cutting the carbs, calories, and sugar content without sacrificing any of that classic lasagna flavor. Each bite is still balanced with the "pasta" texture and gooey cheesy goodness you know and love. Here you have a hearty vegetarian dish that will make even picky eaters happy! Low carb zucchini lasagna is made with just a handful of wholesome, fresh ingredients. These are all readily available at nearly every grocery store throughout the entire year!
Ingredients:
4 zucchini medium to large
3 cups sugar-free marinara sauce
15 ounces ricotta cheese
8 ounces cream cheese
1 ½ cups shredded mozzarella cheese
1 ½ cups grated parmesan cheese
2 large eggs
4 teaspoons dried Italian seasoning
1 teaspoon garlic powder
½ teaspoon crushed red pepper optional
Salt