Blueberry Sheet Pan Pancakes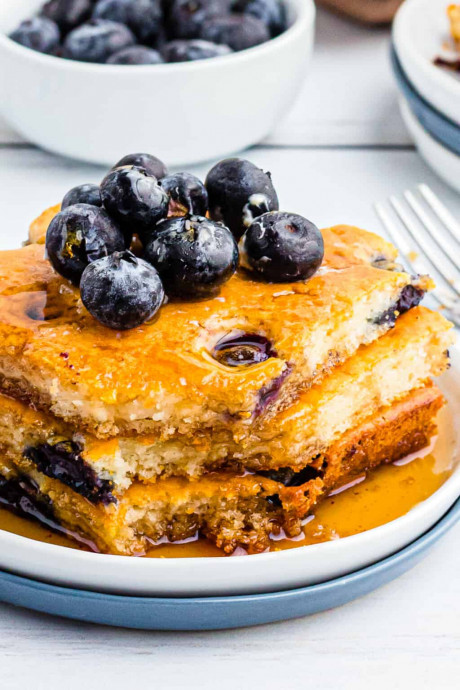 Breakfast just got a whole lot tastier, and easier, with these delicious blueberry sheet pan pancakes. Perfect to serve a crowd and ready in just 30 minutes! I love pancakes, but if you are feeding a crowd, it can be a little tricky to cook and serve several at the same time. That's where these tasty blueberry sheet pan pancakes come in!
Baked in the oven, these pancakes come out wonderfully light and fluffy in less time and with less hassle! They are the perfect breakfast option! Why you'll love this sheet pan pancakes recipe: Perfect for a crowd: If you are feeding overnight guests or have more than a couple of mouths to feed, this recipe makes 12 pancake squares so it's a great option! Quick: It only takes about 10 minutes to prep the pancakes and then into the oven they go. They're ready to serve in 30 minutes. Kid-friendly: Even the pickiest of eaters love these pancakes, especially when drizzled in maple syrup! You can use wither fresh or frozen blueberries in this recipe. If you use frozen blueberries, don't defrost them first, just fold them straight into the batter. If you thaw them first, you'll end up with purple pancakes.These sheet pan pancakes are best served straight out of the oven, but you can make the pancake batter the night before and let it sit in the fridge until you are ready to bake them.
Leftovers can be stored covered in the fridge for 2 to 3 days and can be reheated in the oven, covered with foil, at 320F for 10 minutes until warmed through.
Ingredients:
1 1/2 cup flour
1 Tablespoon baking powder
1 egg
1 cup milk
½ cup heavy cream
2 Tablespoons sugar
¼ tsp salt
2 Tablespoons vegetable oil
3/4 cup frozen or fresh blueberries plus extra if you want some on top