Irish Coffee Chocolate Cake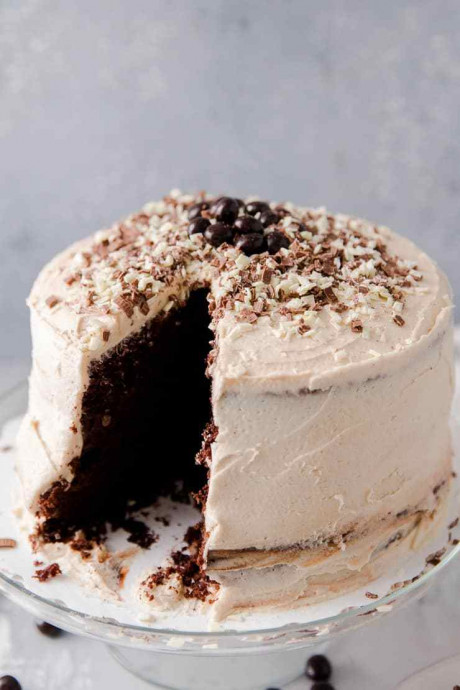 You don't have to be a coffee drinker to love this Irish Coffee Chocolate Cake! This tender cake has all the flavors of a good old Irish coffee, but it is sweet and decadent too! This cake is acceptable anytime your chocolate craving hits!
Irish coffee is actually a cocktail that is made with hot coffee, Irish whiskey, and sugar that is stirred together then topped off with a general amount of whipped cream. It is a classic cocktail that is often served after a meal or with dessert.
I do love a good, strong cup of coffee, but I generally cannot do Irish Whiskey. There is something about the taste. It is either too bitter or too bitter for my liking. I also added a little espresso to the frosting; strongly brewed coffee would be fine. You can omit the flavor; it is a very subtle flavor anyway. The whiskey and Irish cream flavor are not that strong and can easily be omitted. Feel free to use coffee extract, chocolate extract, rum extract, or even brandy extract instead. I sprinkled the top of my cake with finely chopped white chocolate and milk chocolate and added a few chocolate-covered espresso beans.
Store the cake covered in the refrigerator. The cake will last 3-4 days if properly covered. Otherwise, the cake will become dry. This chocolate cake has those exact flavor, plus a little Irish cream!
Ingredients:
3 cups cake flour
1 cup unsweetened dark cocoa
2 teaspoons baking powder
1 teaspoon baking soda
1 teaspoon salt
3 cups of sugar
1 teaspoon espresso powder
1 cup sour cream
1 cup vegetable oil
4 eggs
1 cup brewed coffee
½ cup hot water
1 tablespoon vanilla
Ganache:
1 cup heavy cream
1 cup semisweet chocolate
3 tablespoons Irish whiskey
Frosting:
½ cup butter
½ cup shortening
¼ cup espresso
¼ cup Bailey's Irish Cream
6-8 cups powdered sugar
chopped white and milk chocolate pieces