Black Bean Enchiladas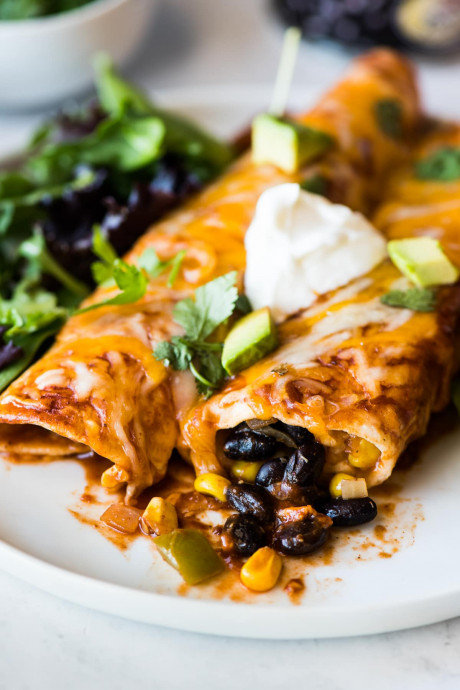 Black Bean Enchiladas filled with a mixture of black beans, corn, onions, and bell peppers, and topped with a red enchilada sauce and melted cheese. Easy vegetarian enchiladas the whole family will love! This black bean enchilada recipe is one of my favorite easy, filling, and healthy vegetarian meals that the whole family is guaranteed to love! Even the biggest of meat eaters never complain about this dish. It's the perfect dinner to serve on Meatless Mondays or whenever you're craving a tasty Mexican dish!
It's made with black beans, corn, onions, and bell peppers rolled tightly in some tortillas and then drenched with a finger-licking good red enchilada sauce and topped with melted cheese. What's not to love about that?!
To save tons of time, I used a can of Black Beans instead of soaking and cooking dried black beans from scratch. Not only do their beans taste great, but they're also high quality! The beans are never broken or smashed like other canned bean brands that I've tried. I can't recommend them enough!
Ingredients:
1 tablespoon olive oil
2 cloves garlic, minced
1 large green bell pepper, diced
1 small onion, diced
1 (15-oz) can BUSH'S black beans, drained and rinsed
1 (15-oz) can yellow corn, drained and rinsed
1 teaspoon kosher salt, plus more to taste
1/2 teaspoon ground cumin
1/4 teaspoon dried oregano
1/4 teaspoon smoked paprika
2 cups shredded Mexican-blend cheese, divided
8 (8-inch) flour tortillas (also called soft-taco size)
2 cups enchilada sauce, divided
optional toppings: sour cream, cilantro, diced avocados