Cajun Shrimp Mac and Cheese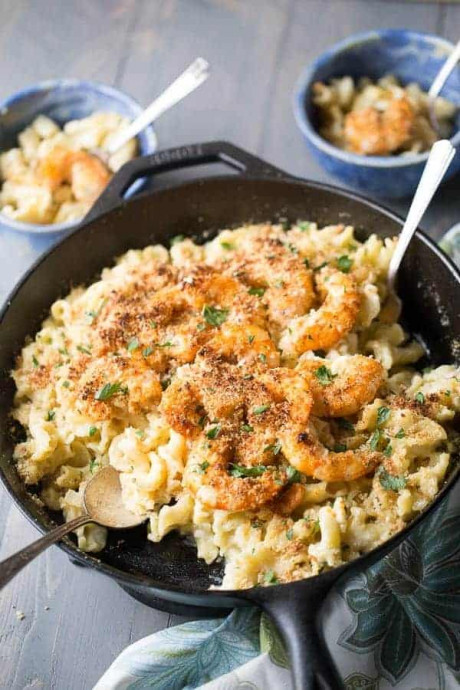 Cajun Shrimp Mac and Cheese – Cajun shrimp are resting atop creamy baked mac and cheese! You won't be able to resist making this recipe! Cajun shrimp features shrimp coated in a blend of Cajun-inspired spices then cooked until longer pink.
Cajun shrimp can be served in a multitude of ways; it can be served over rice or in a dish like this Quinoa Bowl, as a Cajun Shrimp Pizza or in a skillet and served with a side of crusty bread. The heat level in this recipe is totally up to you! My family doesn't do spice that well, so my seasoning was mild. I find that in general, the pre-made Cajun seasoning jars tend to be mild. If you like things spicier, toss the shrimp with hot sauce in addition to the seasoning or add a few dashes of hot sauce to your mac and cheese! This recipe is great for the family or for entertaining, it is a real palate pleaser! This recipe can easily be adapted to adhere to the Keto diet. Omit the pasta and either serve your shrimp with veggies or andouille sausage for a keto meal. No Cajun seasoning? Make your own! Use a blend of dried thyme, oregano, garlic powder, onion powder, paprika, Cayenne pepper, chipotle chili powder, and salt.
Ingredients:
1 teaspoon olive oil
1/4 cup diced onion
1/4 cup diced green pepper
2 cloves garlic, minced
1 tablespoon butter
1 lb Key West Jumbo Gulf Shrimp, peeled and deveined (I used Private Selection)
2 teaspoons Cajun seasoning
1 lb Campanella pasta
3 tablespoons butter
3 tablespoons flour
1 cup milk
1/2 cup heavy cream
1 cup shredded white cheddar
1 cup shredded jack cheese
1/4 cup Panko bread crumbs
1/4 cup bread crumbs
2 tablespoon Parmesan cheese
1 tablespoon melted butter