Brown Sugar Roasted Pork Loin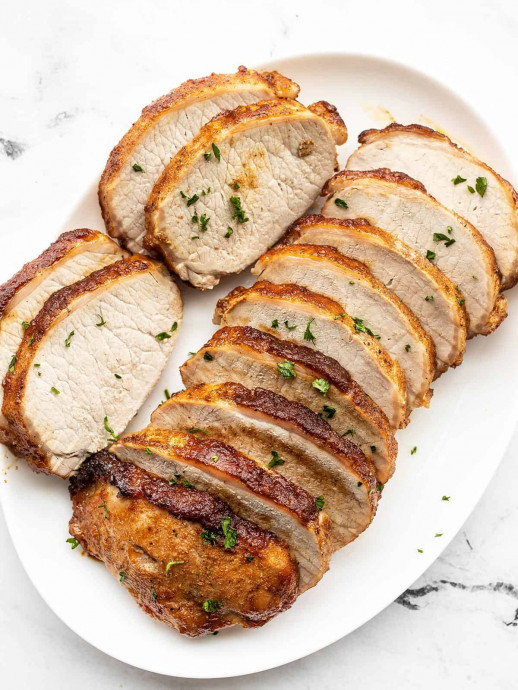 Roasted pork loin is probably one of the easiest (and inexpensive) main dishes you can make. Just add a little seasoning, pop it in the oven, and let it do its thing. The only thing you have to be mindful of is overcooking, but we'll talk more about that below. As long as you avoid that one pitfall, you'll have a tender, juicy pork loin that makes a deeelish main dish that can be paired with tons of different sides.
This recipe is written for pork loin, sometimes called a pork loin roast, which is different than pork tenderloin. Pork loin is a large roast, usually sold in 3-4 pound cuts. Pork tenderloin is a different, smaller muscle that tends to be slightly darker and more tender. Don't overcook it. That's it! Overcooked pork is dry, tough, and resembles something like a hockey puck. So how do you not overcook it? You really need to get a meat thermometer (my favorite is linked in the recipe card below) since every pork loin is a different size and shape, and every oven cooks a little different. What to serve with roasted pork loin? I love classic comfort foods with this Brown Sugar Roasted Pork Loin. I have it pictured with mashed potatoes and some roasted broccoli, but I think something like macaroni and cheese, collard greens, coleslaw, or potato salad would also be awesome!
Ingredients:
4 lbs. pork loin
½ cup brown sugar
1 tsp cayenne pepper
1 tsp garlic powder
1 tsp paprika
1 tsp salt
½ tsp freshly cracked black pepper
3 Tbsp olive oil