Szechuan Chili Shrimp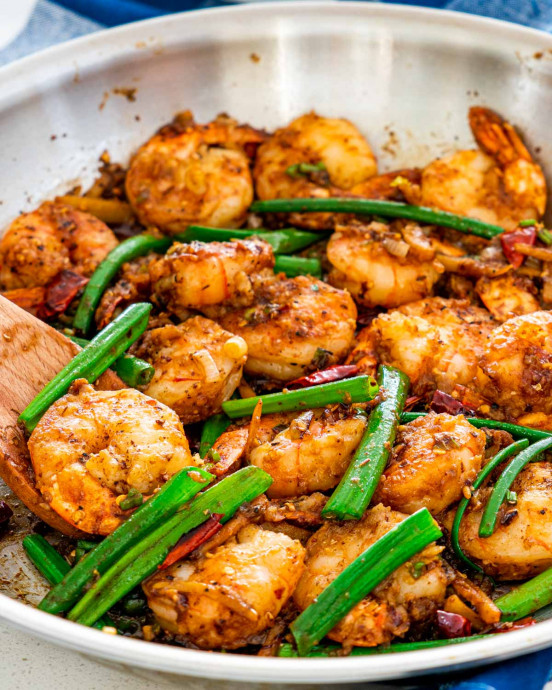 Crispy, spicy, Szechuan Chili Shrimp! This easy dish is loaded with flavor. Made with a simple but delicious sauce that is out of this world, you can't go wrong with this one pan, less than 30 minute recipe! If you're a fan of heat and flavor, you're going to love these Szechuan Chili Shrimp! Made with staple Asian ingredients, these crispy fried shrimp are super easy to make and will tantalize your taste buds like no other!
Spicy, succulent and oh so delicious, this recipe truly packs a punch. It's easy to make – uses just one skillet. It takes under 30 minutes to make with a minimal clean-up. Quick & delicious. I love making shrimp, mostly because of how easy it is! They are super quick (typically always under 30 minutes) and they're so versatile. You can dress them up or dress them down, but they're always delicious. For this recipe, we are upping the ante in the heat department, with spicy dried red chilis and ground up Szechuan peppercorns. If you're ready for a flavorful, crispy bite of shrimp, this one's for you! I serve this dish over a bed of fluffy rice, but the choice is up to you! Pair these shrimp with a salad, noodles, you name it. I could eat a bowl of them on their own, they're that good!
Ingredients:
1 lb large shrimp peeled and deveined
1 cup all-purpose flour
1 tbsp Szechuan peppercorns
¼ cup vegetable oil plus 2 tbsp
2 inch ginger piece peeled and sliced into thin strips
8 dried red chillies cut into small ½ inch pieces
5 green onions white parts chopped, green parts cut into 2 inch pieces
Sauce
⅓ cup soy sauce low sodium
2 tsp sesame oil
2 tbsp Chinese Shaoxing wine
1 tsp sugar