Chai Latte Cupcakes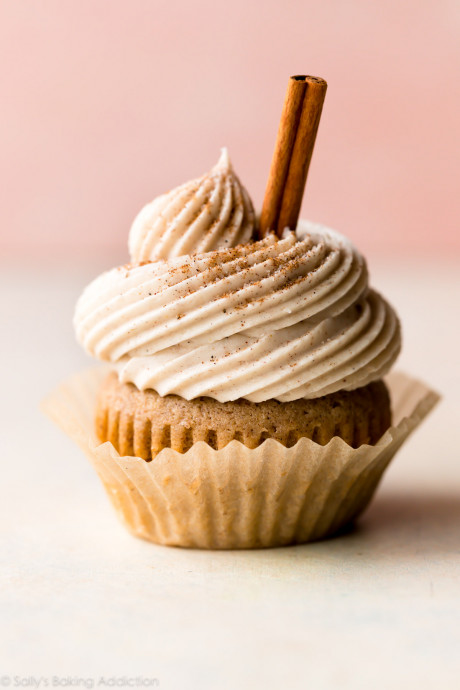 When it comes to cupcakes, I find that inspiration can always be found near and far – and this recipe is no exception. These easy, homemade chai latte cupcakes combine deliciously warm chai spices like cinnamon, cardamom, and ginger with soft and fluffy cupcakes. Topped with my chai spice buttercream, it's the ultimate coffeehouse-inspired treat. Sip and savor, my friends! A dessert you can prepare ahead of time, these chai latte cupcakes are fall must-try whether that means a batch of seasonal cupcakes for your coworkers, a unique contribution to a fall bake sale, an impressive ending to a Friday night dinner party, a Sunday football treat, or even if you just freakin' love chai tea lattes like I do!
There are 3 simple parts to these chai latte cupcakes: making the homemade chai spice blend, preparing the chai-infused cupcake using my basic vanilla cupcakes recipe as the base, and mixing up the chai spice buttercream. The best cupcakes are light, and this chai latte is no exception.
Soft, fluffy, and moist, it has an irresistible texture that will delight the most discerning cupcake lovers! You'll need to steep the tea for 20-30 minutes, then make the batter and bake the cake for about 20 minutes. That lush buttercream frosting can be prepared while the cupcakes are in the oven. You can complete this recipe in a little over an hour, allowing for cool time before frosting the cupcakes.
Ingredients:
Chai Spice Mix
2 and 1/2 teaspoons ground cinnamon
1 and 1/4 teaspoons ground ginger
1 and 1/4 teaspoons ground cardamom
1/2 teaspoon ground allspice
Cupcakes
1 bag chai tea
1/2 cup (120ml) whole milk, at room temperature
1 and 3/4 cups (210g) cake flour* (spoon & leveled)
3 and 1/2 teaspoons chai spice mix (above)
3/4 teaspoon baking powder
1/4 teaspoon baking soda
1/4 teaspoon salt
1/2 cup (115g) unsalted butter, softened to room temperature
1 cup (200g) granulated sugar
3 large egg whites, at room temperature*
2 teaspoons pure vanilla extract
1/2 cup (120g) sour cream or plain yogurt, at room temperature
Chai Spice Buttercream
1 and 1/2 cups (345g) unsalted butter, softened to room temperature
5–6 cups (600-720g) confectioners' sugar
2 teaspoons chai spice mix (above)
1/4 cup (60ml) heavy cream
2 teaspoons pure vanilla extract
pinch of salt
optional for garnish: cinnamon sticks + mix the remaining chai spice mix