Eggnog White Chocolate Streusel Cake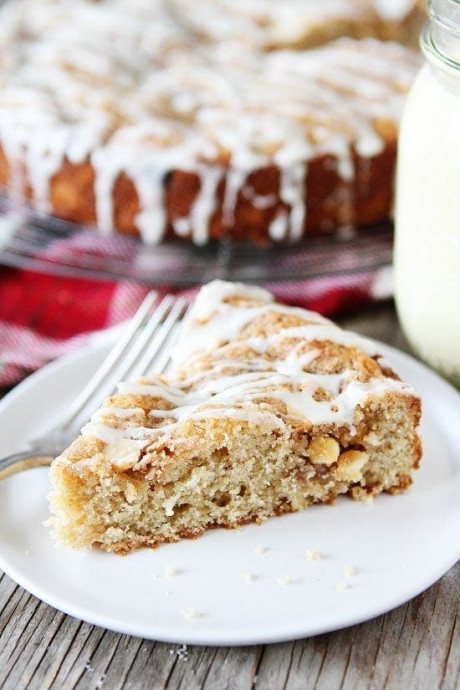 Eggnog White Chocolate Streusel Cake-a simple cake that is made with eggnog, white chocolate, and finished with a streusel topping and eggnog glaze. Eggnog lovers will go crazy for this cake!
I like milk, but I am really not a milk drinker. I use milk in my cereal, oatmeal, and of course for dunking cookies. Same with eggnog. I like eggnog, but not drinking it straight up. I like the flavor, but it is a little thick for me and I guess I am really not a drinker of anything. And I know I said I don't drink eggnog, but I think I could drink this eggnog glaze by the gallon:) It is so good and the perfect finishing touch to the cake!
The cake is super easy to make, which makes it perfect for the busy holiday season! You can serve it for breakfast, brunch, or for dessert at all of your holiday parties and meals! It is a good every time of day cake!
The eggnog cake has white chocolate chips inside, a streusel topping on top, and a sweet eggnog glaze! The eggnog and white chocolate combo is perfection!
Ingredients:
For the cake:
1 1/2 cups all-purpose Gold Medal flour
1 1/2 teaspoons baking powder
1/2 teaspoon salt
1/2 teaspoon ground cinnamon
1/4 teaspoon ground nutmeg
6 tablespoons unsalted butter at room temperature
1 cup granulated sugar
1 large egg
1/2 cup eggnog
1 teaspoon vanilla extract
1/2 teaspoon rum extract
For the streusel topping:
1/3 cup all-purpose Gold Medal flour
1/3 cup brown sugar
1/2 teaspoon ground cinnamon
1/4 teaspoon ground nutmeg
4 tablespoons cold butter cut into pieces
1/2 cup white chocolate chips
For the eggnog glaze:
3/4 cup powdered sugar
2 tablespoons eggnog
1/4 teaspoon rum extract
Pinch of ground nutmeg