Brie and Canadian Bacon Quiche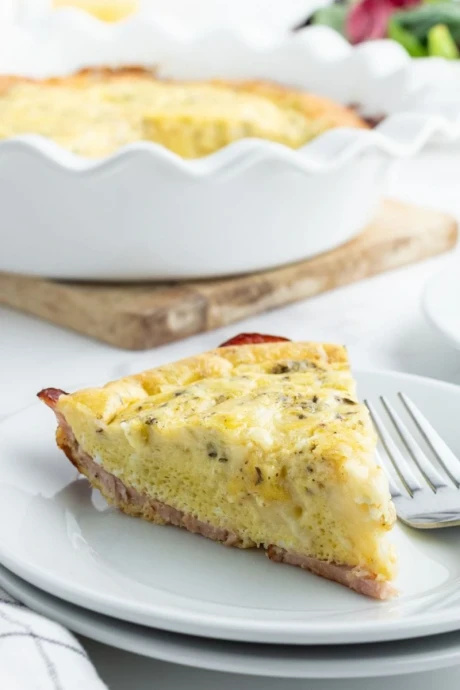 Brie and Canadian Bacon Quiche is a delicious, low carb quiche made with an alternative crust.
Quiche is traditionally made with crust (like my Swiss and Cheddar Quiche), but this quiche is made using Canadian bacon as the crust. So all of those carbs you get from regular pie crust are not present in this Brie and Canadian Bacon Quiche.
A quick, 30-minute bake in the oven, and the quiche is done. I like to make this on the weekend and eat leftovers for lunch on the days following. Brie and Canadian Bacon quiche is a nice quiche to have for breakfast or brunch, but it's also good for lunch. Serve a side salad and a glass of white wine with your quiche to make it a complete meal (and pretend like you're in France!) Slice and serve. The egg custard has Parmesan cheese throughout and spots of melted brie cheese too. It's the perfect way to eat a low carb breakfast.
Ingredients:
10 slices Canadian Bacon (about 10 ounces)
8 large eggs, beaten
½ cup mayonnaise
½ cup grated Parmesan cheese
4½ ounces brie cheese, cubed
½ teaspoon Italian seasoning
½ teaspoon white pepper