Bourbon Chicken Recipe (Sheet Pan)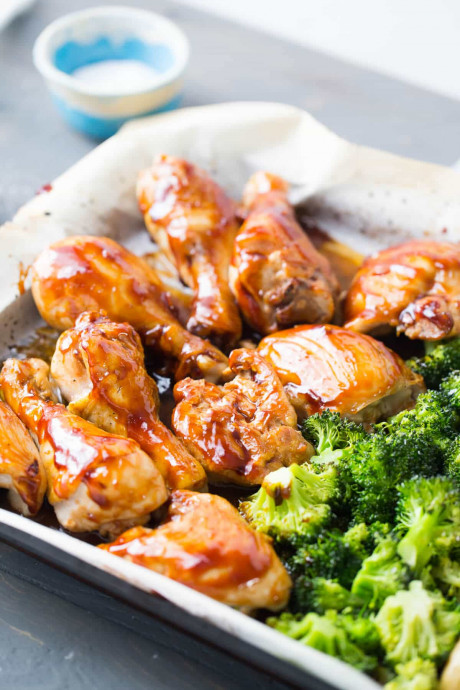 This bourbon chicken recipe is a winner! Anytime dinner only takes one pan and tastes this good has to be good! There is something so addictive about that food court bourbon chicken! The sauce is thick and tangy with a hint of sweetness. Everything about the sauce appeals to my senses. It smells good, tastes good, and looks good. And it doesn't require much in the way of sides. It is perfect with rice or all on its own.I roasted potatoes and broccoli alongside my chicken, but you could easily substitute your favorite veggies.
While this recipe is simple, you will need to work in stages. Prepare your sauce while you roast your chicken and potatoes. Baste your chicken and add your broccoli. Before long your kitchen will be filled with that special, savory/sweet aroma that comes from a good bourbon chicken recipe!
Ingredients:
1 pound Chicken Thigh
1 pound Chicken Drumsticks
1 pound Fingerling Potatoes
1 teaspoon Salt
1 teaspoon Black Pepper
1 bunch Broccoli, cut into florets
For the Sauce:
1 teaspoon Olive Oil
1/3 cup Apple Juice
1 teaspoon Ground Ginger
1 clove Garlic, minced
1/4 cup Brown Sugar
1 tablespoon Apple Cider Vinegar
1 tablespoon Molasses
2 tablespoons Soy Sauce
1/3 cup Ketchup
1/4 cup Bourbon