Pumpkin Caramel Macaron Cake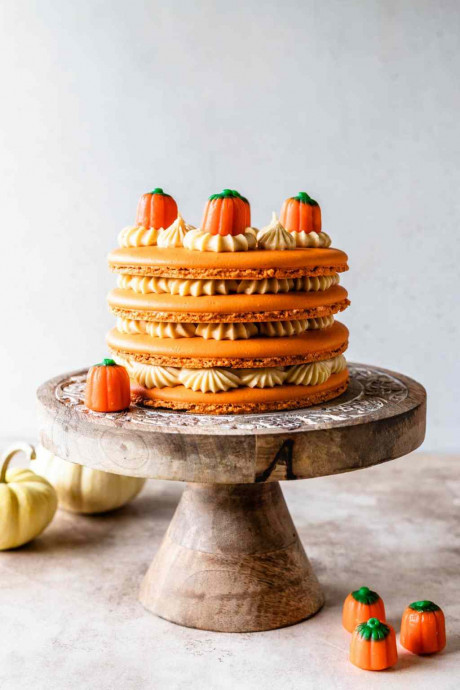 Today we are going to make a Pumpkin Caramel Macaron Cake together! This macaron cake is filled with Pumpkin Caramel Sauce and Pumpkin Caramel Buttercream! The shells of this Pumpkin Caramel Macaron Cake are flavored with pumpkin spice, which you can use or not. You can take it or leave it. I like the taste of pumpkin spice, so I use it both in the shells and also in the pumpkin caramel sauce. If you can't find pumpkin spice around you, just use any combination of all or some of the following spices: cinnamon, nutmeg, cloves, and/or ginger. And speaking of the pumpkin caramel sauce, it's a delicious caramel sauce that takes actual pumpkin puree in the recipe! Absolutely amazing! I can't recommend this sauce enough! We also use the pumpkin caramel sauce in the buttercream frosting, along with more pumpkin puree of course.
Also, there are a couple more things worthy mentioning about this Pumpkin Caramel Macaron Cake. A lot of bakers vouch for their colors, so I will continue to experiment. However, on a few occasions, it's made my shells quite soft. It could have been a couple different factors to have caused the soft shells, but regardless, I will still keep using it with caution, as I get used to it. The orange powder food coloring did work spectacularly for this Pumpkin Caramel Macaron Cake and the beautiful orange shells, so that's a great sign!
Ingredients:
Macaron Shells
4 grams egg white powder optional read notes
100 grams granulated sugar
100 grams egg whites
105 grams almond flour
105 grams powdered sugar
1/4 tsp pumpkin spice
Food coloring I used orange
Pumpkin Caramel Sauce
50 grams granulated sugar
30 grams heavy cream
40 grams unsalted butter
30 grams pumpkin purée
1 tsp pumpkin spice
1/4 tsp salt or more to taste
Pumpkin Caramel Buttercream
85 grams unsalted butter
28 grams cream cheese
2 tbsp Pumpkin Caramel Sauce
1 tbsp pumpkin purée
2 cups powdered sugar