Eggplant Rollatini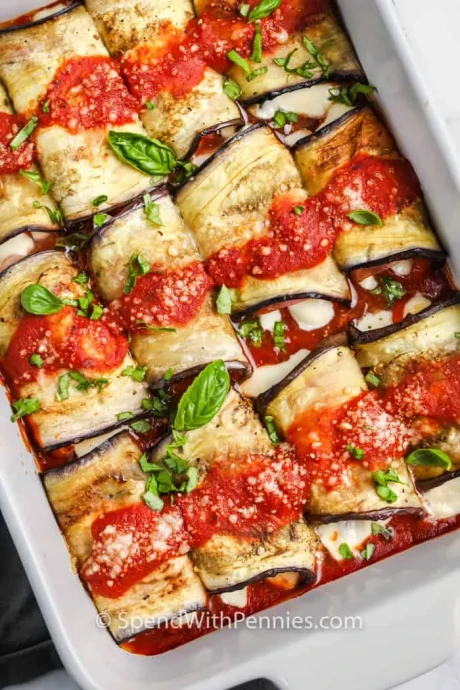 Eggplant Rollatini is a delicious Italian dish! Slices of eggplant are filled and rolled. They're placed in a casserole dish and baked until tender and the cheese has melted.
This is the recipe that made me love eggplant and is sometimes known as Eggplant Involtini. This is a dish I learned to make when I took cooking classes in Italy (in an olive grove, so amazing). Eggplant is filled with a filling and rolled and baked. While many recipes fill with a ricotta spinach filling, we love this cheese and tomato filling seasonings and rolled and this is the recipe I learned while in Italy. It can be prepared ahead of time and freezes and reheats well.
Eggplant does not need to be peeled for this recipe. Cut in thin slices. The eggplant will brown (oxidize) like an avocado would when cut so you'll want to brown it in the pan. Browning the eggplant adds flavor but also allows it to roll easily without breaking. If you have thin pieces or small/broken pieces they can be layered together to create more rolls. Keep leftovers in an airtight container in the refrigerator and they'll last about 3 days. Reheat in the microwave and add a little salt and pepper to refresh the flavors. Easy to make and so flavorful, this Eggplant Rollatini is sure to be a family favorite!
Ingredients:
2 medium eggplants
salt & pepper to taste
3 tablespoons olive oil divided
4 ounces prosciutto or ham
2 medium tomatoes sliced
8 ounces fresh mozzarella sliced
½ teaspoon oregano
1 ½ cups tomato sauce divided
2 ounces parmesan cheese fresh, grated
1 tablespoon balsamic vinegar
fresh basil for serving