Rosemary Garlic Pull Apart Bread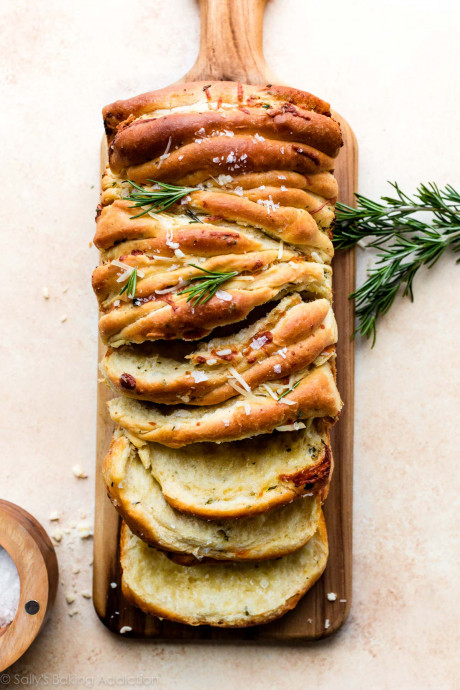 Starting from a simple rosemary-infused homemade dough, this rosemary garlic pull apart bread is shaped and assembled with butter, garlic, cheese, and herbs. Baked until golden brown and served pull-apart style, this flaky and flavorful bread is completely irresistible. Just wait until you smell it baking! Truly a favorite. Cheesy & garlic, rosemary & herb, salty & buttery– all packed inside the homestyle goodness of from-scratch bread. This recipe has a range of some of the best flavors around.
Many pull apart bread recipes use a loaf of bakery bread from the store and while that's certainly easy and delicious, this recipe utilizes a 9-ingredient homemade dough. If you've ever been nervous to bake bread, this recipe is a great starting point. Shaping is pretty simple– the loaf can look messy going into the oven. If you're new to baking with yeast, review my Baking with Yeast Guide. Lots of helpful information there!
There's no arguing that homemade bread takes time, but the results are always so worth the commitment. Luckily this recipe yields 1 simple loaf and once you get the assembly process down, it moves pretty quickly. Set aside at least 4 hours from start to finish, but keep in mind most of that time is hands off as the dough rises.
Ingredients:
Dough
2 teaspoons Platinum Yeast by Red Star*
1 Tablespoon granulated sugar
3/4 cup (180ml) whole milk
3 Tablespoons (45g) unsalted butter, softened to room temperature
1 large egg
2 and 1/3 cups (300g) all-purpose flour (spoon & leveled), plus more as needed*
1 teaspoon salt
1 teaspoon garlic powder
1 Tablespoon finely chopped fresh rosemary (or 2 teaspoons dried)
Filling
5 Tablespoons (75g) unsalted butter, extra soft (see note)
1 Tablespoon finely chopped fresh rosemary (or 2 teaspoons dried)
1 Tablespoon finely chopped fresh parsley (or 2 teaspoons dried)
2 garlic cloves, minced or 1/2 teaspoon garlic powder
1/4 teaspoon salt
3/4 cup (95g) shredded parmesan, mozzarella, or white cheddar cheese (or your favorite shredded cheese)
Optional Topping
1 Tablespoon unsalted butter, melted
flaky/coarse sea salt for sprinkling