Strawberry Galette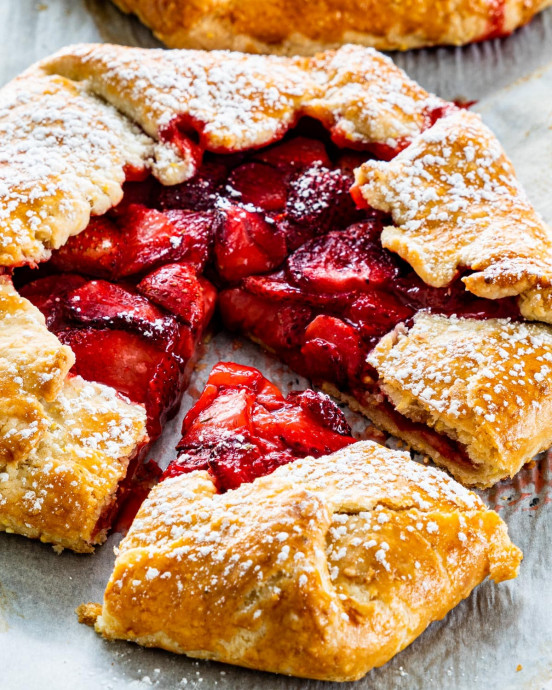 Flaky crust and a sweet, fresh filling. This Strawberry Galette is begging to be on your table! While it has a beautiful presentation, this pastry is easier than pie to make. Featuring my tried-and-true buttery pie crust, this stunning sweet treat is a winner every time.
Fresh strawberries, homemade buttery crust; this is simple baking at its finest. This galette is so gorgeous in its rustic form. Even the most novice of bakers will have no problem shaping it! It's a great introductory recipe to the world of pastries and pies.
I turned this galette recipe into 2 medium sized galettes, but you can also make 6 individual galettes from it. You can roll the dough out and make one or two large galettes that you can slice up like a pie, or even make them miniature and bite-sized. This recipe really is great for any in-season fruits you have in abundance and need to use up.If the world of galette is new to you, think of these like a pie. Slice them into wedges and serve them all on their own, add a dollop of whipped cream, sprinkled with some powdered sugar, or a scoop of ice cream.
Like pies, your galette truly can be served at any temperature. I recommend letting it cool down for 10-15 minutes after taking it out of the oven to let the strawberries firm up and cool down a bit, otherwise you will burn your tongue. Other than that, you can enjoy it hot, at room temperature, or cold from the fridge.
Ingredients:
Pastry
2 cups all-purpose flour
1/2 cup cornmeal
1 tsp salt
1 tsp sugar
1 cup butter unsalted, very cold, and cut into small pieces
1/4 to 1/2 cup ice water
Strawberry Filling
3 cups strawberries cleaned and sliced
1 tbsp lemon juice freshly squeezed
3 tsp sugar
1 1/2 tbsp cornstarch
1 egg for egg wash