Easy Low Point Buffalo Chicken Wonton Cups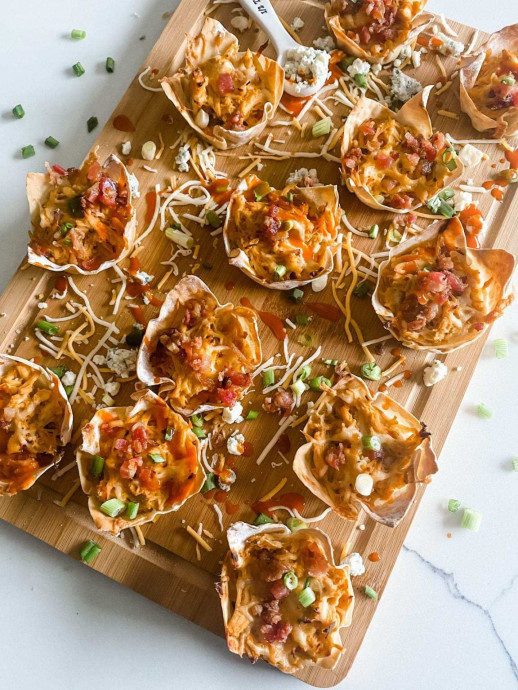 These Easy Low Point Buffalo Chicken Wonton Cups are simple to make-with only 7 ingredients! Loaded with shredded chicken, buffalo sauce, light cream cheese, non fat plain Greek yogurt, ranch dressing mix, sprinkled with shredded light cheese, then filled into a crunchy wonton cup! These make for the perfect bite size snack or appetizer!
The buffalo chicken filling is similar to my dip recipe in that it's been lightened up. If making game day appetizers lighter isn't your thing, by all means use full fat ingredients or whatever you buy and eat at your house. I like to do a mix of lower fat ingredients and full fat. Cheese, with the exception of mozzarella or cream cheese, is one of those ingredients that I don't believe should be reduced fat or worse non-fat! The texture, flavor and melting abilities are all wrong. Ingredients I do think you can sub in the lower fat and not notice a difference are yogurt, milk, sour cream. The filling for these Baked Buffalo Chicken Wonton Cups is a mouthwatering combination of shredded chicken, buffalo hot sauce, green onions, cream cheese, Greek yogurt and a little melted cheese on top. The lighter ingredients are undetectable in these bites, so even your least health conscious game day guests won't notice. Enjoy!
Ingredients:
1/4 cup or 4 Tbsp reduced fat or whipped cream cheese
2 Tbsp non fat plain Greek yogurt
1 tsp dry ranch dressing mix - I use Hidden valley ranch dry dressing mix
1/4 cup Frank's original buffalo wing sauce
1 cup cooked and shredded chicken- or you can use rotisserie or canned Kirkland chicken breast, drained.
1/4 cup reduced fat or fat free shredded cheddar cheese- I use Trader Joe's lite three cheese blend
12 wonton wrappers-I like to use Twin Dragon Won Ton Wrappers.