Foil Wrapped Salmon with Snow Peas & Mushrooms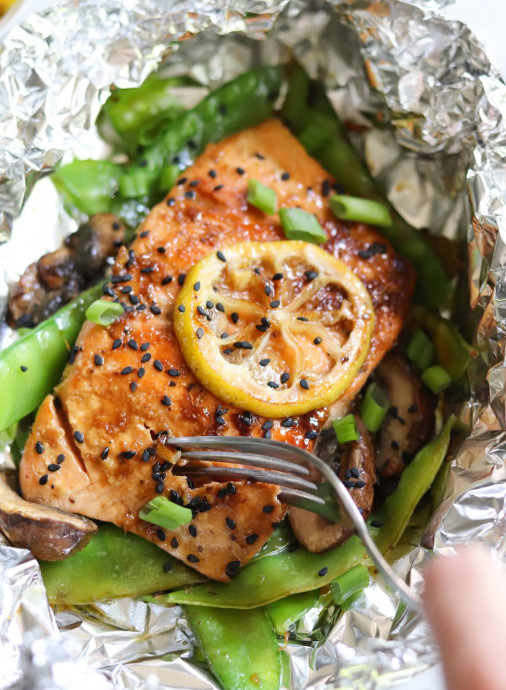 This Asian-inspired Foil Wrapped Salmon with Snow Peas and Mushrooms is flavored with ingredients like of ginger, garlic, and lemon and can be made on the grill or baked in the oven. The recipe is Whole30 and Keto, of course, but the best part? It's made in a jiffy with almost no cleanup! Wrapping salmon in foil is one of the best ways to prepare fish! I love that you can either bake the foil wrapped salmon in the oven or throw it on the grill. And because the fish and vegetables steam inside the foil, keeping it moist and tender without overcooking or drying out. I've been making this recipe for years, and I still find it fool-proof.
This foil wrapped salmon recipe is shockingly easy. Not only are the ingredients easy to come by (I can find everything I need at every local grocery store), but the whole thing comes together with only a few minutes of hands-on time. You need to make the simple Asian-inspired marinade and slice the vegetables, but that's pretty much it. And once that's done, you'll simply layer the ingredients right inside individual foil packets. The salmon will marinate inside the foil packet, so there's no need to dirty an extra dish! You can either bake in the oven or grill outside, whatever you prefer!
Ingredients:
Salmon
1 lb salmon 4 fillets, approximately 4-6 oz. each
2 cups fresh snow peas
2 cups baby bella mushrooms
Marinade
1.5 tbsp lemon juice about half a lemon
3 tbsp coconut aminos
2 tbsp sesame oil or olive oil
1 clove garlic
1.5 tsp grated ginger
1/2 tsp salt
1/2 tsp pepper
Toppings
1 tsp sesame seeds
2 tbsp green onions sliced
1/2 lemon sliced