No-Bake Strawberry Jello Pie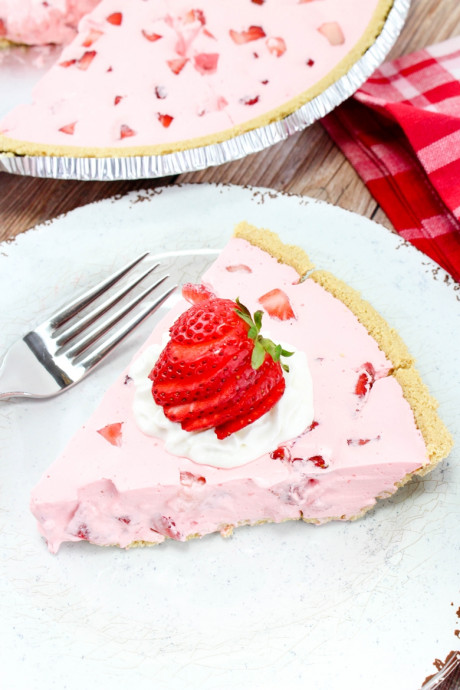 A delicious welcome to Spring with this delicious strawberry Jello pie! This recipe is easy to make using a premade graham cracker crust, Cool Whip, fresh strawberries, and – you guessed it — Strawberry Jell-O. This cool and refreshing Strawberry pie with Jello is super simple to make. If you can make gelatin from a box, you can make this easy no-bake pie. The recipe only requires 4 ingredients — plus some water and ice. Honestly, the hardest part is waiting for the Jello to set.
I like to prepare the pie in the evening; so that it has plenty of time to set up overnight while we sleep. That way I am not watching the clock and counting down the minutes until I can enjoy it. I hope that you enjoy this quick and easy strawberry pie. Not only is it perfect for satisfying your sweet tooth in the summer without having to turn on the oven, but the beautiful pink pie makes an amazing dessert any time of year.
Ingredients:
1 premade graham cracker crust (10 in.)
additional whipped topping and strawberries for garnish, if desired
1 package (8 oz) whipped topping, thawed
2 cups strawberries, diced
1 cup ice water
2/3 cup boiling water
1 package (3 oz) strawberry Jello