Cheesy Sausage Gnocchi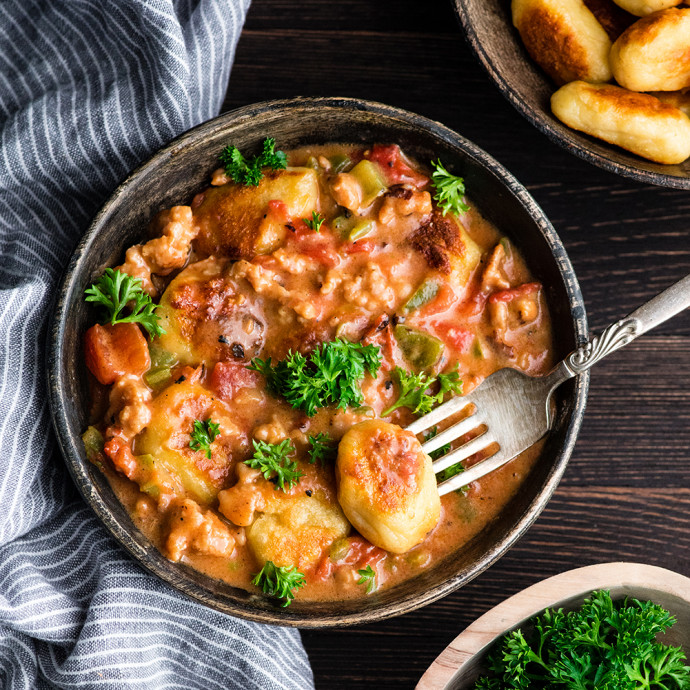 This cheesy sausage gnocchi recipe is an easy, healthy and delicious dinner made in under 30 minutes! Everyone in your family will love it!
This Cheesy Sausage Gnocchi recipe is the perfect scrumptious weeknight dinner that is ready in under 30 minutes! It is a complete meal with protein-packed chicken sausage, sneaky veggies, and filling potato gnocchi! Plus the cheesy sausage gnocchi sauce (made with Cabot sharp cheddar cheese) is absolutely amazing.
Keep the gnocchi and sauce separate until serving. This is my serving method of choice. I like to keep the gnocchi warm in the oven while I cook the sauce, and then put two bowls on the table — one filled with gnocchi and one with sauce. This way the gnocchi retains it's pan-fried buttery crispiness as long as possible.
Serve together! The simpler way is to simply toss the gnocchi into the sauce as soon as it has thickened and serve it as a one-pot dish! This is much easier, and sometimes we do opt to do it this way if we have company over! Feel free to add some chopped fresh parsley, fresh basil, or an extra sprinkle of cheddar cheese to finish off this delicious sausage gnocchi!
Ingredients:
1 16 oz package of potato gnocchi (or homemade)!
½ TBS butter
1 ½ TBS olive oil divided
1 lb. Italian chicken sausage casings removed.
1 14.5 oz can diced fire roasted tomatoes (do not drain)
1 medium green pepper finely diced
½ cup 2% milk
½ tsp garlic salt
¼ tsp pepper
¼ tsp onion powder
¼ tsp garlic powder
1 ½ cups Cabot Shredded Sharp Cheddar Cheese
Optional: fresh parsley for serving