Peach Rose Tarts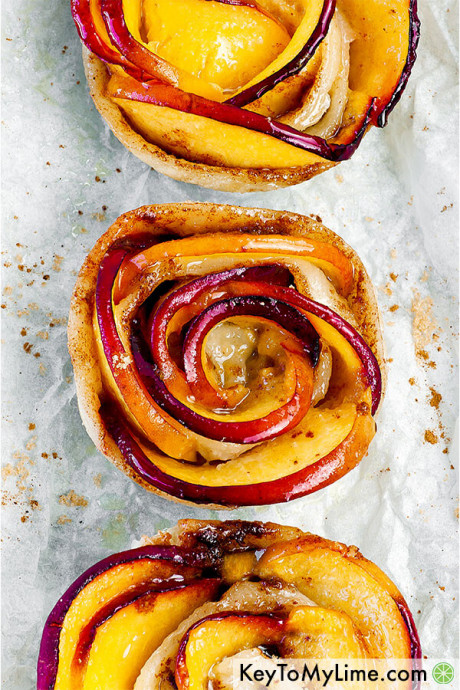 Peach rose tarts that are made with puff pastry are the simplest elegant dessert ever! These beautiful little tarts are the perfect easy pastry recipe.
This recipe is for all of the people who swoon over stunning pastries but don't believe they could make anything like that at home. I'm here to tell you that you (yes you!) can absolutely make gorgeous pastries at home with very little effort.
It's pretty easy but it does take a little time. You start by thinly slicing a peach and sprinkling the slices lightly with sugar. Then you roll a puff pastry sheet out until it is about 1/4″ thick and slice it into 3 inch strips. One strip at a time layer the peach slices across the pastry dough leaving the bottom half bare. Brush the exposed dough with butter, sprinkle a little more sugar and then fold the dough up over the bottom half of the peaches. Gently roll the puff pastry up and you have a lovely peach rose tart. I brushed the outside with a little egg wash to help it brown and then dropped each tart into a greased muffin tin and then baked them in a 375°F oven for 40-45 minutes until the dough was completely cooked. As stunning as these little tarts are, you won't believe how easy the steps are. Nothing complicated and you still get an impressive dessert.
Ingredients:
1 Puff pastry sheet, thawed
Flour for rolling out puff pastry
2-3 Peaches
¼ cup Sugar, granulated
¼ cup Butter, melted
2 tablespoons Powdered sugar
1 Egg
2 tablespoon Water