Crockpot Spaghetti Sauce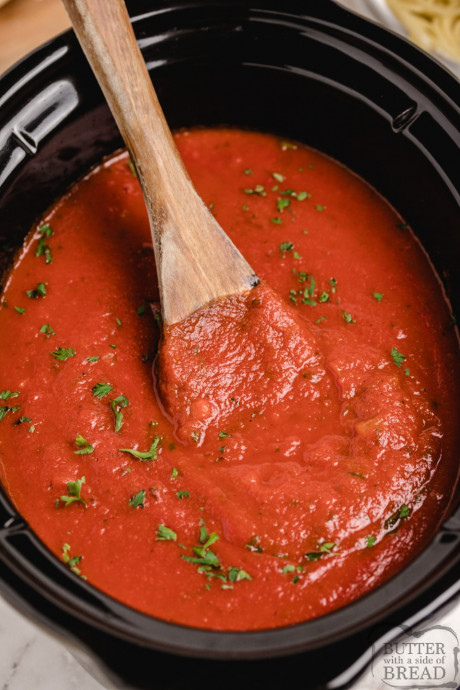 Crockpot Spaghetti Sauce made with a delicious blend of spices and tomatoes. Best homemade spaghetti sauce recipe that is simmered for hours in a slow cooker to achieve the perfect flavor.
Homemade spaghetti sauce is easily made with onions, garlic, canned tomatoes and a variety of spices to create a perfectly flavored sauce. The trick to making the best spaghetti sauce is to allow the sauce to simmer, and the crockpot does the job perfectly!
This spaghetti sauce recipe doesn't have any meat in it, but you can easily add meat. You can brown the meat along with the onion and garlic in the recipe and then add to the crockpot with the rest of the ingredients. I prefer to use 1/2 lb of Italian sausage and 1/2 lb of ground beef, but you can use one or the other if you'd rather! Another option for adding meat to spaghetti sauce is to add meatballs. You can add in frozen Italian meatballs about halfway through cooking, or you can add your own homemade meatballs to the sauce about 30 minutes before serving.
Ingredients:
1 small onion diced
3 cloves garlic chopped
1 Tbsp butter
3 14.5 oz cans diced tomatoes
3 6 oz cans tomato paste
2 cups water
1/4 tsp salt
1/2 tsp pepper
1/2 tsp dried oregano
1/2 tsp garlic powder
1/2 tsp dried thyme
1 tsp Italian seasoning
2 bay leaves
1 Tbsp dried parsley
1/8 tsp sugar
3 Tbsp olive oil