Chocolate Bundt Cake with Peanut Butter Glaze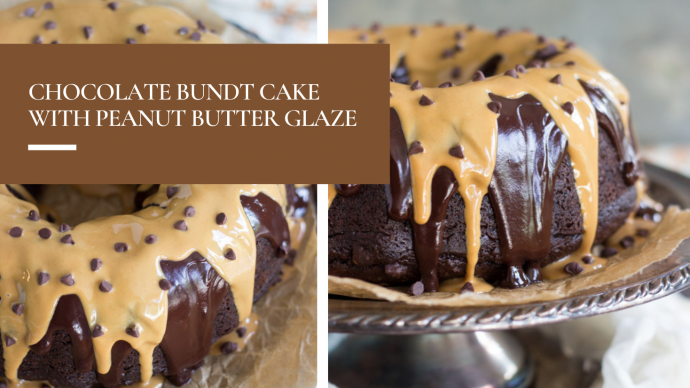 Today I invite you to cook a dark, moist, bittersweet chocolate bundt cake paired with an intensely peanut butter glaze. Delicious and peanut butter-y, this cake is easy to whip up, and that kind of sweet/salty combo is just amazing.
I often find bundt cakes dense and dry, but this cake is the complete opposite - rich but light, super moist, almost fluffy. The glaze is a little sticky, but keeping it from getting too sweet helps the textures and flavors balance out.
Ingredients
For the cake
1 cup of brewed coffee
3/4 cup cocoa powder
2 tablespoons of espresso powder
2 1/4 cups of sugar
1 teaspoon of salt
2 1/2 teaspoons of baking soda
2 large eggs
1 large egg yolk
1 1/4 cups of buttermilk
1 cup of canola oil
2 teaspoons of vanilla extract
2 1/2 cups of all-purpose flour, sifted
1 cup semi-sweet chocolate chips
For the glaze
1/2 cup of creamy peanut butter
1/3 cup of corn syrup
Up to 1 cup of powdered sugar (though I use more like 1/2 cup)
3 to 4 tablespoons of milk or heavy cream
1 teaspoon of vanilla extract
Directions
Step 1
Place the brewed coffee, cocoa powder, and espresso powder in a saucepan and heat over medium heat. Bring the mixture to a boil, whisking often, and then remove it from the heat and set it aside. Cool to room temperature.
Step 2
Preheat the oven to 350 F. Butter and flour a cake pan very well. I prefer using cocoa powder vs. flour to not get white spots.
Step 3
In a separate bowl (or the bowl of your stand mixer, if you have one) whisk together sugar, salt, baking soda, and eggs until combined. Add in the buttermilk and oil and beat for another 1 to 2 minutes, scraping the sides or the bottom as needed.
Step 4
Add in the flour and whisk for 2 minutes.
Step 5
Then beat in the cooled coffee/cocoa mixture and whisk for another 3 minutes.
Step 6
Pour the batter into the cake pan. Bake for 60 minutes, or until the cake is set and a toothpick inserted into the cake comes out clean.
Step 7
Remove and let cool completely. After about 30 minutes you should be able to turn it onto a wire rack to finish cooling. Then put it on a plate or cake stand.
Step 8
Now let's make the glaze. Cream together the peanut butter, vanilla, and corn syrup. Slowly add the powdered sugar and 1 tablespoon of the cream or milk a little at a time, and whisk thoroughly. I only use closer to 1/2 cup of powdered sugar. Add more cream if necessary.
Step 9
Pour and spread on the cooled cake, add chocolate chips, let it set for 5 minutes, and serve.