Smoked Salmon Frittata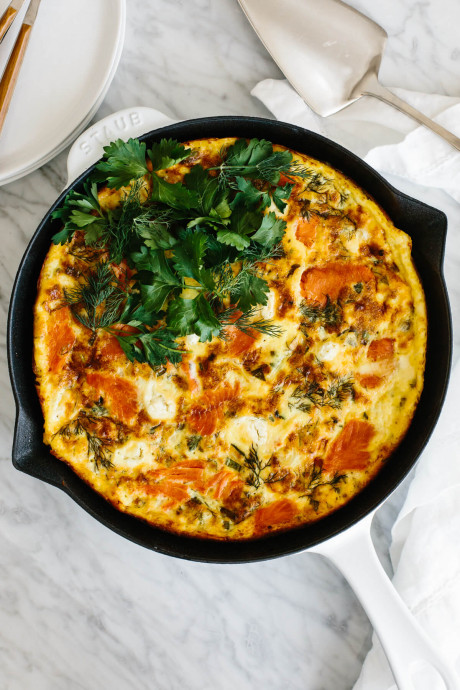 This healthy, smoked salmon frittata is the perfect breakfast (or Sunday brunch recipe). Filled with salmon, goat cheese, scallions, shallots and herbs, it's naturally gluten-free, paleo-friendly and is sure to impress!
So what's in this frittata recipe? I've loaded this frittata recipe with healthy smoked salmon and a variety of greens including leeks, scallions, parsley and dill. Can't have smoked salmon without dill, right? And maybe cream cheese – but in this case we're using goat cheese.
In addition to the goat cheese, I've whisked in some homemade yogurt with the eggs, to make this frittata recipe super creamy. But if you're dairy-free, you could easily swap the dairy yogurt for coconut yogurt and omit the goat cheese. There's so much flavor with the sautéed leek, shallot and scallions (and of course, the handfuls of herbs) that you definitely won't feel this smoked salmon frittata is missing anything without the dairy.
If you'd like more of those ingredients to show on top, for a restaurant-worthy looking frittata, here's my food styling tip. Save a little of each of those ingredients (and maybe some dill) and carefully place those on top right before you transfer the frittata to the oven.
Ingredients:
1 leek, cleaned with white and light green parts diced
1 shallot, diced
3 scallions, thinly sliced
3 tbsp olive oil, divided
10 large eggs
1 cup yogurt, or dairy-free yogurt
1 bunch fresh parsley, roughly chopped
1 bunch fresh dill, roughly chopped
8 oz smoked salmon, torn into small pieces
4 oz goat cheese
salt and pepper, to taste