Garlic Knots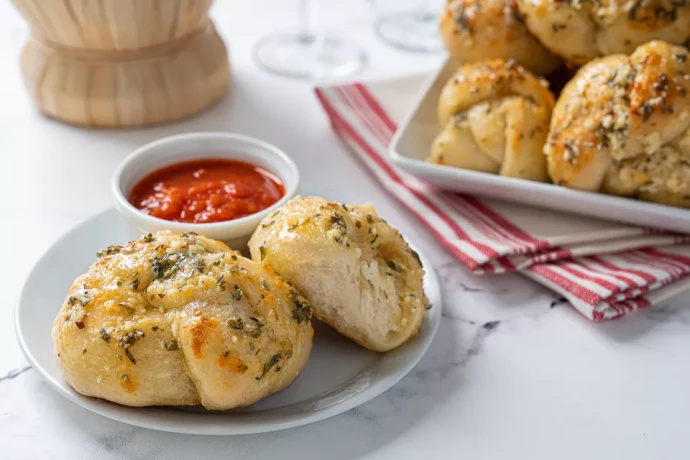 We can all agree that warm garlic knots, dripping in a cheesy herbed butter, are just irresistible. How many times have you been to your favorite Italian restaurant and you already know you are going to order them even before you sit down? One sniff of that intoxicating aroma from the table next to you and it is a foregone conclusion. Garlic knots are one of life's simple pleasures.
The best part is, garlic knots are incredibly easy to make at home. You don't even have to worry about making your own homemade dough from scratch. All you need is a pound of prepared pizza dough to achieve that fresh from the oven experience. If you have a favorite pizza place, sometimes you can even ask to purchase a pound of their pizza dough for a restaurant level experience in your own home.
Garlic knots are perfect when you want individual serving sizes, rather than a large loaf of garlic bread that you would need to slice to serve. This recipe for garlic knots is versatile as well. When served with warm marinara sauce for dipping, they take on the role of an appetizer. They are also a delicious way to fill a bread basket for passing around the table and a nice alternative to plain dinner rolls at a meal.
Ingredients:
1 pound prepared pizza dough, at room temperature
1/4 cup unsalted butter, melted
2 tablespoons freshly grated Parmesan cheese
1 teaspoon garlic powder
1 teaspoon dried oregano
1 teaspoon dried parsley flakes
1/4 teaspoon salt
1/2 cup warm marinara sauce, for dipping