Zucchini Noodle Salad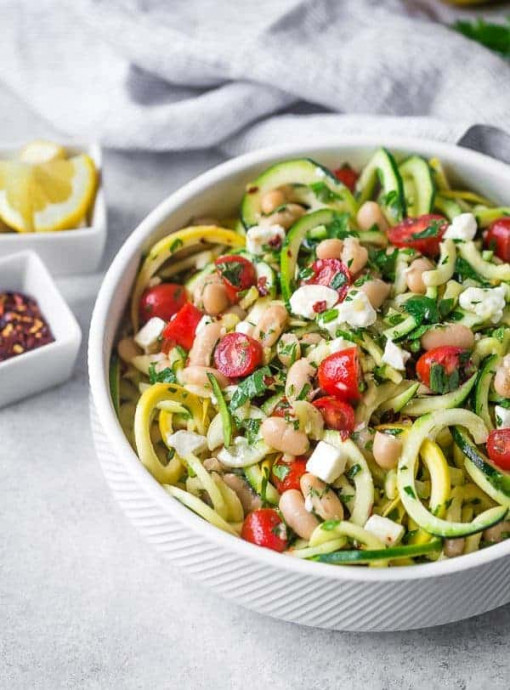 This healthy and easy to make zucchini noodle salad is hearty enough to serve as a vegetarian meal, but it can also serve as a flavorful side salad that everyone will love. I like to use both summer squash and zucchini because I think the two colors are pretty in this salad. You could definitely use two zucchini if that's what you have, or two summer squash. Same goes for this yummy grilled vegetable salad.
I add cannellini beans and feta cheese for protein and flavor. This salad is certainly hearty enough to be a meal, but it also makes a great side salad or addition to a picnic or barbecue. Don't have cannellini beans? Try great northern beans, chickpeas, or shelled edamame. I keep the flavors in this salad bright and lively with zesty herbs, tomatoes, and freshly squeezed lemon juice. I use lots of mint and parsley for a combination reminiscent of one of my favorite salads, tabbouleh. Dill would also be fantastic in this salad, or a touch of basil. You can definitely have fun with it and create your own combination.
Ingredients:
2 medium to large zucchini, spiralized to a spaghetti-like size
1 cup grape tomatoes, halved
1 can (15oz) cannellini beans, rinsed and drained
1/2 cup crumbled feta
1/2 cup minced fresh parsley
3 tablespoons freshly squeezed lemon juice
2 tablespoons minced fresh mint
2 tablespoons extra virgin olive oil
1/2 teaspoon salt, more to taste
1/2 teaspoon red pepper flakes, more or less to taste