Crispy Parmesan Ranch Roasted Potatoes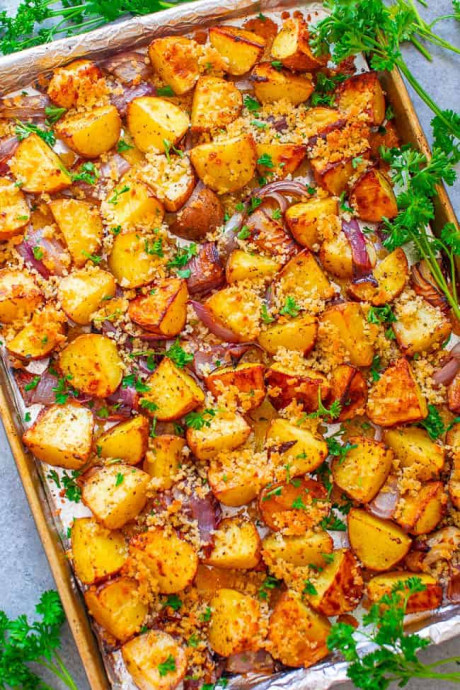 Crispy parmesan ranch potatoes — the best roasted potatoes you'll ever eat!! Tender potatoes seasoned with ranch mix and topped with a crispy parmesan breadcrumb topping! So delicious you don't even need a main course!
I know this could sound like a bit of a stretch, but these are the best roasted potatoes I've ever eaten. I'm not including sweet potatoes though, because that's like comparing apples and oranges. Totally different flavor profiles.
These oven roasted ranch potatoes are buttery soft in the middle with slightly chewy exteriors and the crispy-crunchy buttery ranch-flavored breadcrumb topping, along with Parmesan cheese, is a total grand slam. I literally didn't need anything else besides these blissful carb-heavy bites of comfort the day I made these. I ate them off the baking sheet and loved every second. No main course needed. This ranch red potatoes' recipe is a high maintenance as a roasted potato or vegetable goes because normally I just throw them on a sheet pan and forget about them, but this one does involve a bit of flipping and babysitting but so well worth it!
Ingredients:
3 pounds baby red potatoes, quartered
1 large or extra-large red onion, diced into large wedges
4 tablespoons olive oil, plus more as necessary
one 1-ounce packet dry ranch salad dressing and seasoning mix, divided
freshly ground black pepper, to taste
3 tablespoons unsalted butter, melted
1/2 cup panko Japanese-style breadcrumbs
1/4 cup fresh Parmesan cheese, finely grated
fresh parsley, optional for garnishing