Asparagus Ribbon Salad With Beets & Burrata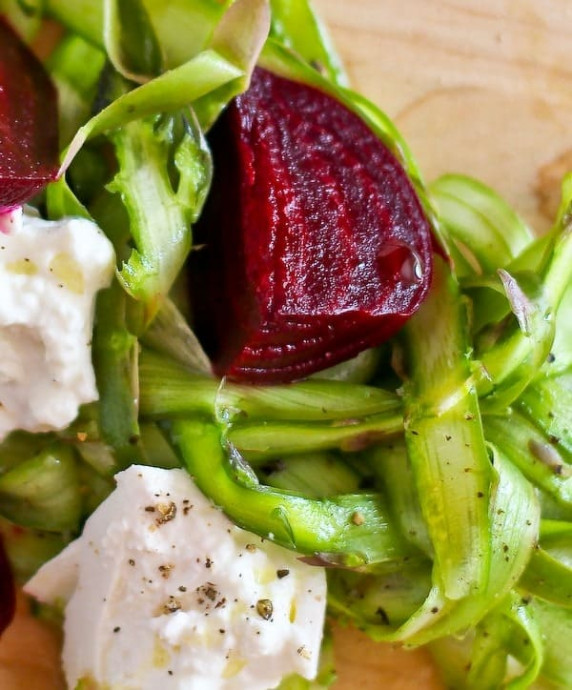 This asparagus ribbon salad with beets and burrata doesn't have a long list of ingredients – they are not necessary when the ingredients are this flavorful and fresh! Summer – the season of delicious salads. For me, salad season is year round. I love salads. I love that they can complete a meal or BE a meal. I love the flexibility and endless possibilities they offer.
This asparagus ribbon salad is the crown jewel of all salads. She's a classy gal. She's not only beautiful but she has depth and character. She is certainly is a head-turner. A long list of ingredients isn't needed when that list includes asparagus, beets and burrata.
If you're not familiar with burrata, you need to head on over to your grocery list and add it to the items you want to purchase. It's solid fresh mozzarella on the outside, but when you break it open, you find a mixture of mozzarella and cream. It has a soft texture that's perfect for this salad everything. The creamy center of the burrata mixes with the asparagus ribbons and the beets.
Ingredients:
8 thick stalks of asparagus, rinsed
1 teaspoon olive oil
1/2 teaspoon white balsamic vinegar
1/4 teaspoon Dijon mustard
1/4 teaspoon honey
salt and pepper to taste
1 small beet, roasted, peeled and sliced or cut into chunks
1-2 ounces burrata, torn into bite-sized pieces