Peach Raspberry Crumble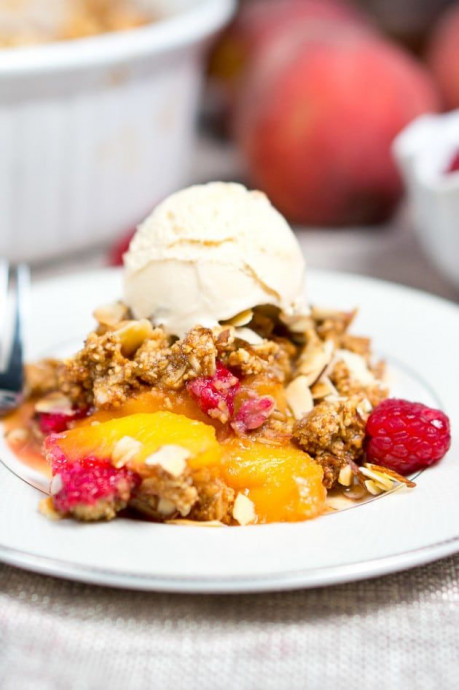 This peach raspberry crumble is warm, juicy and full of flavor! And the topping is beyond delicious… it's sweet, buttery, with an amazing almond flavor & a bit of oatmeal. Perfect summer treat, this peach raspberry crumble is made with fresh fruits and topped with almond flour, coconut sugar, gluten-free oats & almonds.
This is great to make for a family gathering or even a quick dessert during the week. I made it again tonight, it took me only about 10 – 15 minutes to make while dinner was cooking, and by the time we were done with supper and put the dishes away, the crumble was ready. Top it with your favorite ice cream and enjoy! You can also make this crumble even if you don't have almond flour or coconut sugar, just substitute them with regular all-purpose flour & brown sugar.
Ingredients:
Filling
¼ cup almond meal/flour
¼ cup coconut sugar
2 lbs fresh peaches (about 6 peaches), peeled and each cut in 8 pieces
1 cup raspberries
Juice from 1 lemon
½ tsp vanilla extract
Topping
1 cup almond meal
1/2 cup coconut sugar
⅛ tsp salt
8 Tbsp (1 stick) cold, unsalted butter
½ cup gluten free quick oats
1 cup sliced almonds, divided
1/2 tsp almond extract
Vanilla ice cream, to serve (optional)