Three Cheese Asparagus Gratin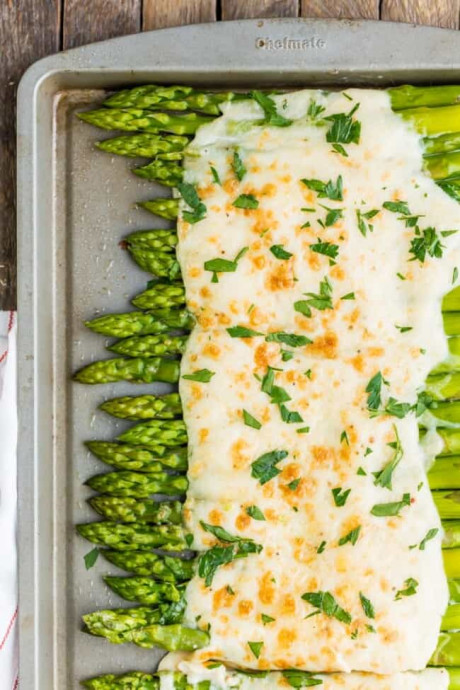 Asparagus under a creamy blanket of a blend of cheeses. What could be better than cheesy asparagus?! This easy asparagus recipe just too good not to try! A blend of cheeses melted onto asparagus…it tastes amazing and it couldn't be easier to make. Perfect for a holiday table, it's just as good for a simple weeknight dinner, and it makes one delicious appetizer too. There's never a bad time for cheesy asparagus! If you need a good veggie side dish (for Thanksgiving, Easter, or any other day), look no further than Three Cheese Asparagus Gratin. It's simple, it's tasty, and it's got everything you need. A nice balance of healthy vegetables and…less than healthy (but well worth it) amounts of cheese!
How easy is this recipe? Cook the asparagus in a skillet, throw it on a baking sheet, cover it in loads of cheese, and broil it to make it all melty. That's the gist of it, which means it's simple enough to make pretty much any time. We've got mozzarella, asiago, and parmesan mixed together on top of the asparagus, and it brings so much flavor. It's literally a blanket of cheese, and I couldn't be more happy about it. You can't go wrong with this veggie dish!
Ingredients:
2 pounds thin asparagus rinsed with ends cut off
3 cups water
2 tablespoons salted butter
2 tablespoons whole wheat flour
3/4 cup shredded mozzarella divided
1/2 cup shredded asiago cheese
1/2 cup grated parmesan cheese
Sea Salt to taste
Garlic Pepper or regular pepper to taste
Fresh parsley for garnish optional