Frozen Peanut Butter Cup Pie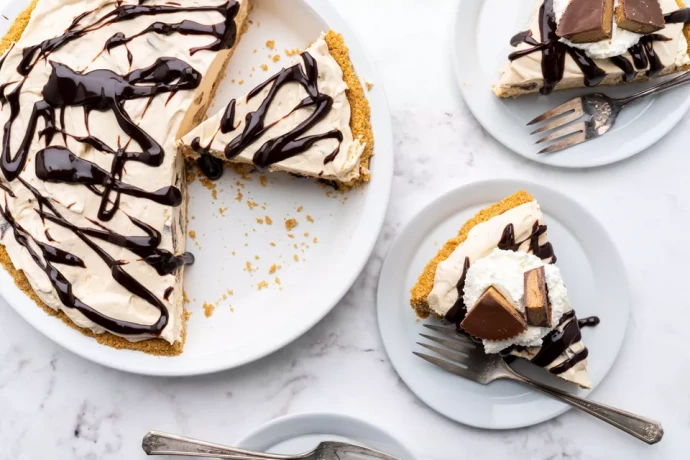 This awesome frozen peanut butter cup pie is the perfect dessert or weekend treat for a hot summer day. The classic graham cracker pie shell and simple cream cheese and peanut butter filling take no more than 10 to 15 minutes to prepare; just mix, freeze, and enjoy.
To make this even easier, use a store-bought deep-dish graham cracker pie shell. An oreo or chocolate cookie crust would be an excellent choice as well. Freeze the peanut butter cups to make chopping them much easier. Tips: If possible, freeze the pie for several hours or overnight before serving. Give the pie about 10 minutes at room temperature to soften slightly before slicing. If desired, bake the crust in a preheated 400 F oven for 10 minutes. Cool completely and chill slightly before filling. Make this peanut butter sauce to drizzle over the pie along with the chocolate syrup.
Ingredients:
For the Crust:
1 3/4 cups graham cracker crumbs
1/3 cup melted butter
1/4 cup brown sugar (or granulated sugar)
For the Filling:
8 ounces cream cheese (softened)
1 cup sweetened condensed milk (using a liquid measuring cup)
3/4 cup creamy peanut butter
1/4 cup confectioners' sugar
1 (8 ounce) tub frozen whipped topping (thawed)
1 cup peanut butter cups (chopped, frozen for easier chopping, plus more for garnish if desired)
1 cup sweetened whipped cream (or whipped topping, for garnish)
1 cup warm chocolate syrup (or chocolate sauce, for garnish)