Mahi Mahi with Roasted Pepper Butter Sauce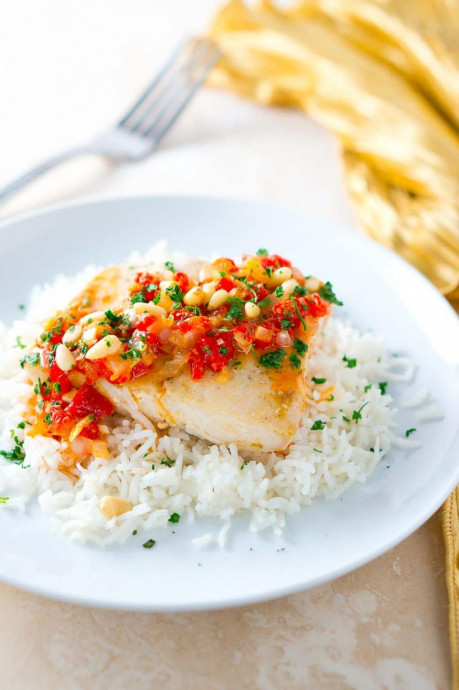 Mahi Mahi with Roasted Pepper Butter sauce is a great weeknight meal that's ready in less than 30 minutes. Mahi Mahi is cooked to perfection and served on a bed of jasmine rice with a warm roasted pepper butter sauce. This pan-seared Mahi Mahi with Roasted Pepper Butter Sauce is a delicious and light summer meal. The sauce is amazing – so flavorful and goes wonderfully with any fish.
You can serve it with rice, vegetables (some ideas – zucchini, broccoli, green beans) or with creamy mashed potatoes. (mashed cauliflower bake or roasted garlic cauliflower would work too to keep it low carb!) This meal is made in one pan – it's an easy cleanup and it's perfect for midweek dinner.
It takes about 30 minutes from start to finish. Perfect for when you want a delicious & healthy dinner but don't have much time to cook. It's so delicious! Made with fresh ingredients it's a wonderfully tasty dish full of flavor! It's easy to adapt to paleo and whole30 diets and easy to make low carb.
Make it paleo or Whole30 by eliminating the butter or using a Paleo-friendly substitute. If you want to make a low carb meal, instead of serving it over rice, you can serve it over cauliflower rice, spaghetti squash, zucchini noodles or with roasted vegetables.
Ingredients:
2 Tbsp extra virgin olive oil
4 Mahi Mahi fillets
salt and black pepper, to taste
1/2 large onion, finely chopped
4 cloves garlic, finely chopped
3 roasted peppers, finely chopped
1/4 cup vegetable stock (or water)
juice of 1/2 lime
2 Tbsp butter
2 tsp cumin
1/4 cup pine nuts
fresh parsley, for garnish