Bell Pepper and Cheddar Savory Muffins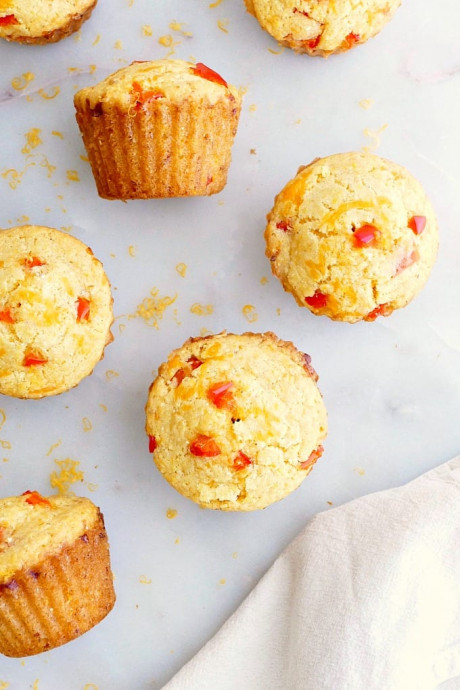 Delicious cornbread muffins studded with red bell pepper and cheddar cheese. These veggie-filled savory muffins stand alone with melted butter as a snack or for breakfast, but also taste great with eggs, chili, and stews.Cornbread is simply delicious. It's flavorful, has a gritty but appetizing texture, and pairs so well with SO many foods. I love a good cornbread, especially during chili season, and I've been known to order skillet cornbreads from my fair share of restaurant menus.
Since my appreciation for cornbread runs deep, I've been eager to find a way to package this amazing food into a more manageable, easy-to-eat vehicle. Enter: savory muffins!
Made with a honey-sweetened cornmeal base, these Bell Pepper and Cheddar Savory Muffins have everything there is to love about cornbread and then some. For one, they contain a veggie…because, obviously. And two, they have some sneaky cheddar cheese!The rest of the ingredients are easy peasy (and I bet you have most of them in your pantry): all purpose flour (can sub gluten free flour), baking powder, salt, unsalted butter, eggs, and milk (I used almond milk).
If you also love cornbread and/or you're just looking for a way to sneak some veggies into a muffin, this one's for you!
Ingredients:
1 cup cornmeal
1 cup all purpose flour - can sub gluten free all purpose flour
1 tbsp baking powder
1/2 tsp kosher salt
1/2 cup unsalted butter - 1 stick; melted and cooled
2 eggs
3/4 cup almond milk - can sub cow's milk
1/4 cup honey
1 bell pepper - finely diced
1/2 cup sharp cheddar cheese - freshly grated