Hash Brown Crust Bacon And Cheddar Quiche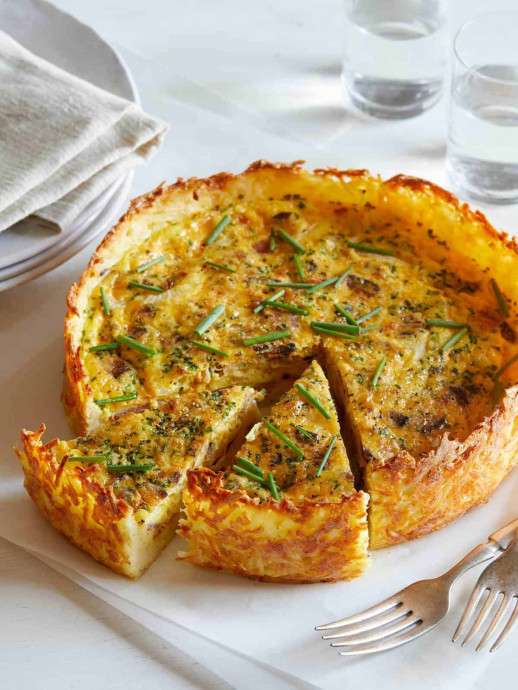 Hash Brown Crust Bacon and Cheddar Quiche is a fun twist on a traditional quiche. It has a crispy hash brown crust! This is a crowd pleaser, and easy on you too because you can make it ahead! We love this recipe for our Hash Brown Crust Bacon and Cheddar Quiche! The hash brown is actually really easy to make and gets crispy around the edge, just the way great hash browns should be. It's a really great texture to add to the light and fluffy quiche. This quiche recipe has all your favorite breakfast items in one dish, and makes it a super good option when you're having people over.
Variations
The cheddar can be swapped out for almost any cheese of your choice, like crumbled goat cheese, shredded fontina, crumbled feta, or shredded Swiss.
This recipe can be made vegetarian friendly by swapping the bacon out for sauteed spinach (just make sure to squeeze as much liquid from the spinach before adding it to the filling mixture).
You can also add diced and par-cooked potatoes or sweet potatoes to double down on the spuds and bulk this quiche up even more.
Ingredients:
hash brown crust
20 ounces frozen hash browns thawed
½ cup white cheddar shredded
½ teaspoon salt
¼ teaspoon cracked black pepper
filling
2 tbs unsalted butter
½ onion thinly sliced
6 large eggs lightly beaten
½ cup heavy cream or whole milk
4 rashers bacon crispy cooked and crumbled (a rasher is a slice of bacon)
1 cup white cheddar cheese shredded
1 tbs chives thinly sliced, plus more for garnish
salt and pepper to taste