Grilled Cucumber with Mint and Feta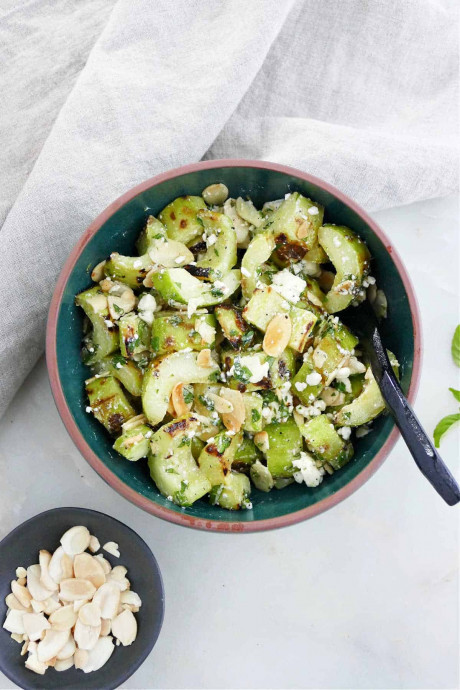 Grilled cucumber is tender, juicy, and downright delicious in this vegetarian summer salad that's perfect for cookouts. Fresh mint, feta cheese, and sliced almonds add bursts of flavor and texture. A squeeze of lemon juice and a drizzle of olive oil round out the dish! Not only can you cook cucumbers on the grill, but you absolutely should. They are so delicious! I paired them with feta cheese and fresh mint, and added some sliced almonds and a simple olive oil lemon dressing. Grilled cucumbers are still fairly crunchy but become slightly tender. The cooking process elevates their juiciness, and they have a yummy charred taste from sitting on the grill.
You can place cucumbers directly on grill grates or cook them over mesh mats. I like to cook veggies on mats to avoid them sticking to the grates or falling through the cracks.
Grilled cucumber salad is best enjoyed right away. Leftovers can be stored in an airtight container in the fridge for a day, but they don't keep well for longer periods.
Feel free to mix up the ingredients if you want different flavors or have other options on hand. You could sub fresh basil or parsley for the mint, use goat cheese instead of feta cheese, and sub pumpkin seeds for the almonds (good for making this nut-free).
Ingredients:
2 large cucumbers
2 tbsp olive oil - divided
1/2 lemon - juiced, more to taste
3 tbsp chopped fresh mint
1/2 cup crumbled feta cheese
1/2 cup sliced toasted almonds
Salt - to taste
Freshly ground black pepper - to taste