Harissa Chickpeas with Whipped Feta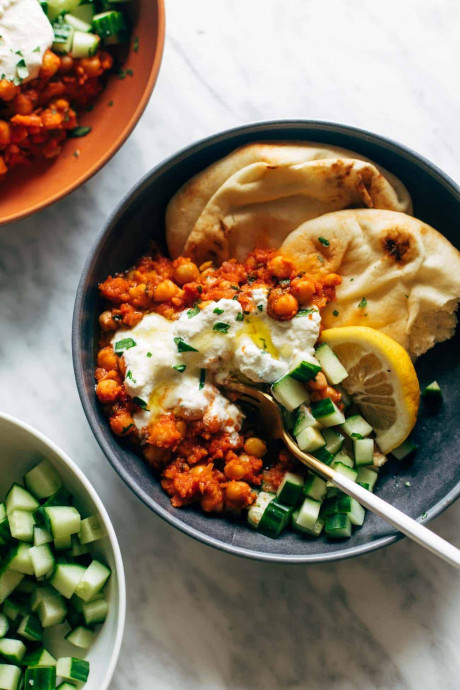 Harissa Chickpeas with Whipped Feta! Perfectly spicy/saucy/tomato-y chickpeas smothered in creamy, garlicky whipped feta and served with naan, lemons, and cucumbers. Your next weeknight wonder!
Okay, there are two parts to this recipe.
Part one: make the chickpeas. This is easy: harissa paste, garlic, canned crushed tomatoes, olive oil, canned chickpeas.
I like to lightly smash the chickpeas to help them not feel so chickpea-y, if you know what I mean? (My fellow chickpea skeptics do know what I mean.) So I use a potato masher to just give them just a few good smooshes and make the texture into something more sticky and saucy.
ALSO: for something a little fun and unexpected, I've been adding golden raisins in just at the end of the simmering, so they get kind of plump and juicy and then you have these little secret bites of sweetness tucked in between all the heat. These chickpeas… I mean, I really like them. They are super meal-prep friendly and can be served with flatbread, rice, roasted vegetables… Delicious!
Ingredients:
Whipped Feta:
one 4–6 oz. container of feta
a knob of cream cheese or a spoonful Greek yogurt
1 small clove garlic
Harissa Chickpeas:
2 tablespoons olive oil
2–3 cloves garlic
1–2 tablespoons harissa paste (2 tablespoons would be medium spicy)
one 14-ounce can fire-roasted crushed tomatoes
two 14-ounce cans chickpeas, rinsed and drained
1 teaspoon salt
squeeze of lemon juice
chopped parsley (optional)
1/4 cup golden raisins (optional but sweet and yummy)
Extras
pita or naan
diced cucumber
lemon wedges
olives