Strawberry Cobbler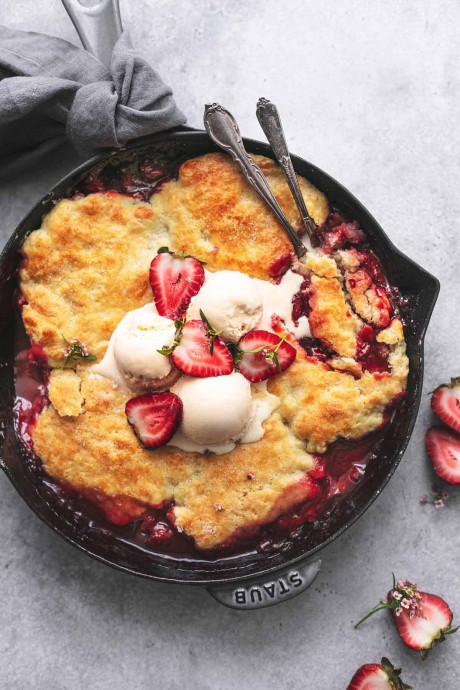 This Strawberry Cobbler is SO easy to make with just a few basic pantry and fridge ingredients, strawberries, and of course ice cream for serving! The cobbler topping is so simple to make you'll impressive even yourself when you serve up this tasty dessert.
In addition to grilling all the things, and serving yummy pasta salads and other outside-dining/picnic-y-type-foods, I also really really enjoy a nice, light, fruity, tasty dessert in the summer. Add some fruit and ice cream to that dessert and I'll pretty much skip right over dinner and onto that dessert.
Like this cobbler recipe, for example. Let's just say I spent so much time "tasting" it as I was making it that by the time dinner rolled around I didn't really want anything. But, the good news is, by the time dessert rolled around, I again found myself hungry. Weird, right?
But in summer, all eating rules should go out the window anyway. I say make more time for sun and family and lazy days and of course, dessert!
Although this dessert is layered more or less, don't worry too much about getting it perfect. This easy cobbler recipe is meant to be an imperfect, perfect treat.
Ingredients
4 cups sliced strawberries
⅔ cups sugar
2 teaspoons fresh-squeezed lemon juice
2 tablespoons flour
½ teaspoon almond extract - or vanilla extract
pinch of salt
1 ½ cups flour
1 tablespoon baking powder
½ teaspoon salt
10 tablespoons cold butter - diced
½ cup buttermilk - or heavy cream
2 tablespoons melted butter - or buttermilk
¼ cup coarse sugar - or regular granulated sugar
vanilla ice cream for serving