Garlic Pork Chops in Creamy Mushroom Sauce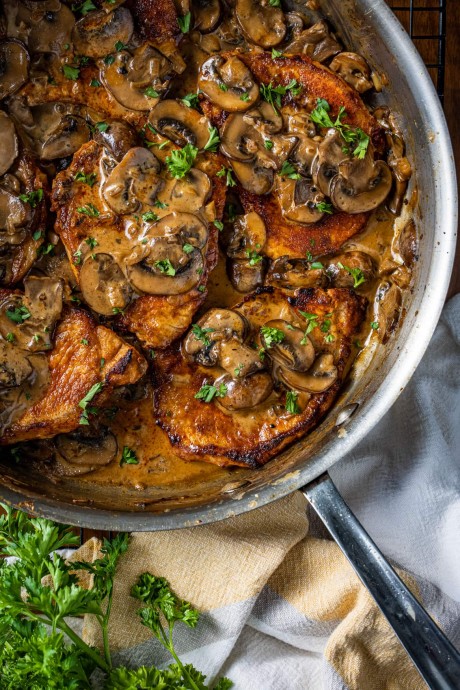 Pork chops seasoned with paprika and covered in a creamy garlic mushroom sauce. A one pan meal that's both easy and delicious.
Mushrooms and cream go together like peanut butter and jelly. Well okay, that's a bit of a stretch, but it's still a delicious combination. You can use mushroom cream in all sorts of dishes including soups and sauces for chicken, steak and pork. It's incredibly versatile because of its rich flavor profile and tastes delicious in any combination.
This creamy garlic mushroom pork chop one pan meal starts with seasoning your chops with a coating of paprika and a little salt. This gives your chops an extra layer of flavor and also lends a beautiful color to the dish. Of course, you can use thick cut or bone-in chops, you'll just need to cook them to your desired doneness. A slight pink is perfectly fine with pork, and I usually do mine to a medium (so that they retain some juiciness).
Next comes your garlic mushroom cream sauce. Heavy cream and baby bella mushrooms are a powerful duo in the flavor department. Heavy cream gives the sauce a luscious thickness and the mushrooms provide a deep umami flavor.
This is an easy weeknight meal that comes together quickly in 20 minutes. By using ingredients that each have deep flavors individually, you get a super tasty meal with hardly any effort.
Ingredients:
6 pork chops
1 tbsp paprika
1 tsp salt
12 oz baby bella mushrooms sliced
1½ oz shallot finely chopped
4-5 cloves garlic finely chopped
½ cup chicken stock
½ cup heavy whipping cream
oil & butter for frying olive or avocado oil
Italian parsley (for garnish)
Prep Time:
10 minutes
Cook Time:
10 minutes
Total Time:
20 minutes